Look for (or hide from) more debates about the iPhone and Android devices. Even as Apple fans prepare for all the hoopla surrounding another iPhone launch, it seems that Android's achieved another victory, with Quantcast putting its U.S. market share up by a significant amount for May.
Android ended May with a market share of 19.9 percent, according to the audience research firm, which means it achieved a month-over-month increase of 1.3 percent. Quarter-over-quarter, its growth looks even more impressive, at 4.6 percent, and Android managed to gain 12.2 percent compared to a year earlier.
Meanwhile, at least on a month-over-month basis, the rest of the categories Quantcast tracks were down. iPhone OS's share fell by 0.9 percent, the "Other" grouping lost 0.3 percent, and RIM OS experienced a decrease of 0.1 percent.
The graph below shows that Android's doing well compared to its competitors over an extended period of time, too.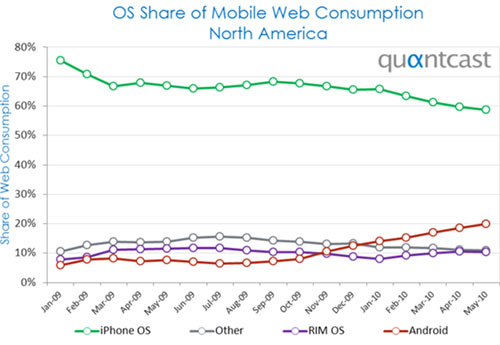 Of course, as always, these numbers will bear watching, and that holds especially true with the next iPhone's release date so close. But if the launch of the next iPhone isn't able to give iOS a significant boost, things will start to look undeniably bad for Apple.