Playdom has been in the news a lot over the week as Disney announced its agreement to acquire the social gaming company. Today, Playdom announced a partnership with Harrah's Interactive Entertainment to launch the Official World Series of Poker game on Facebook and other social networks.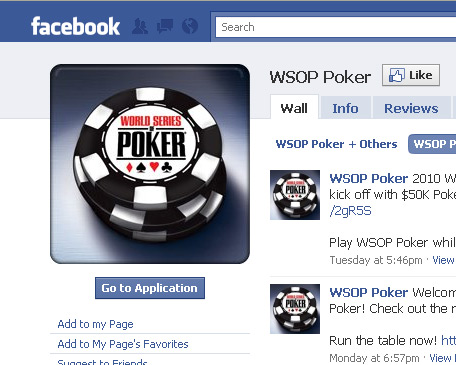 "We are very excited to bring the thrill and excitement of the World Series of Poker to the social
gaming space with Playdom," says WSOP VP Craig Abrahams. "We will immediately start to work on enhancing the game, bringing unique WSOP promotions and sweepstakes into the offering and ensuring that the battle for WSOP virtual championship bracelets can become a
Facebook-friendly endeavor."
"There is only one brand in poker that stands out and that is the World Series of Poker," said Sean
Phinney, VP of Business Development for Playdom. "We think big brands will win on social networks and we are excited to start working together to create a unique and fun social gaming experience."
The app is also available on MySpace, with other social networks following soon.
Playdom currently boasts over 46 million active monthly users across its network of games. Disney is paying $563.2 Million plus an earn-out of up to $200 Million.
In other online poker news, the New York Times reports that the House Financial Services Committee approved a bill that would effectively legalize online poker and other nonsports betting, overturning a 2006 federal ban. The publicatno also reports, "Two of the biggest European operators of Internet betting sites, PartyGaming and Bwin Interactive Entertainment, said Thursday that they planned to merge, forming the world's largest publicly traded online gambling company."
I would imagine that we'll be seeing a lot more happening with this industry.