Fans of Google Checkout and/or the idea of paying for things with your Android smartphone have reason to cheer this morning: Osama Bedier, the (former) vice president of product development at PayPal, has taken a job with a certain search giant.
Details are light about what Bedier might do at Google. Nonexistent, really, so we'll be sure to provide an update if and when that info becomes available. UPDATE: Bedier's LinkedIn profile now indicates he's a VP at Google.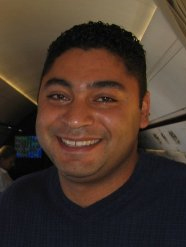 In the meantime, though, a look at Bedier's background makes it easy to see he's quite a catch. Bedier worked at PayPal for over eight years, and his position put him in charge of the mobile payments platform.
He must have accomplished some impressive things, too, as Scott Guilford, PayPal's CTO, wrote in a blog post announcing his departure, "Osama helped open our platform to the world two years ago and that's driving great innovation and momentum. I want to personally thank Osama for his friendship and leadership."
Matthew Mengerink will now replace Bedier at PayPal. And as for what will happen at Google, it'd be prudent to expect the company to explore some interesting new directions with Google Checkout and NFC technology (which the Nexus S already supports).
Google's made clear it's interested in in-app payment solutions, as well.