The Academy Awards show was last night, and The Social Network won 3 Oscars, after being nominated for 8.
The Social Network was up for: Best Picture, Best Direction, Actor in a Leading Role, Adapted Screenplay, Cinematography, Film Editing, Sound Mixing, and Music (Original Score). It won Best Adapted Screenplay, Film editing, and Music (Aaron Sorkin, Angus Wall/Kirk Baxter and Trent Reznor/Atticus Ross respectively).
Last month, The Social Network won 4 Golden Globes for Best Director, Screenplay, Best Score, and Best Picture, Drama. It had been nominated for 6. Jesse Eisenberg, the actor who portrayed Facebook CEO Mark Zuckerberg in The Social Network, was nominated for the Best Actor, Drama award, but lost out to Colin Firth for his performance in the film, The King's Speech. Andrew Garfield, who played Facebook co-founder Eduardo Saverin, was nominated for Best Supporting Actor, but lost to Christian Bale for his performance in The Fighter.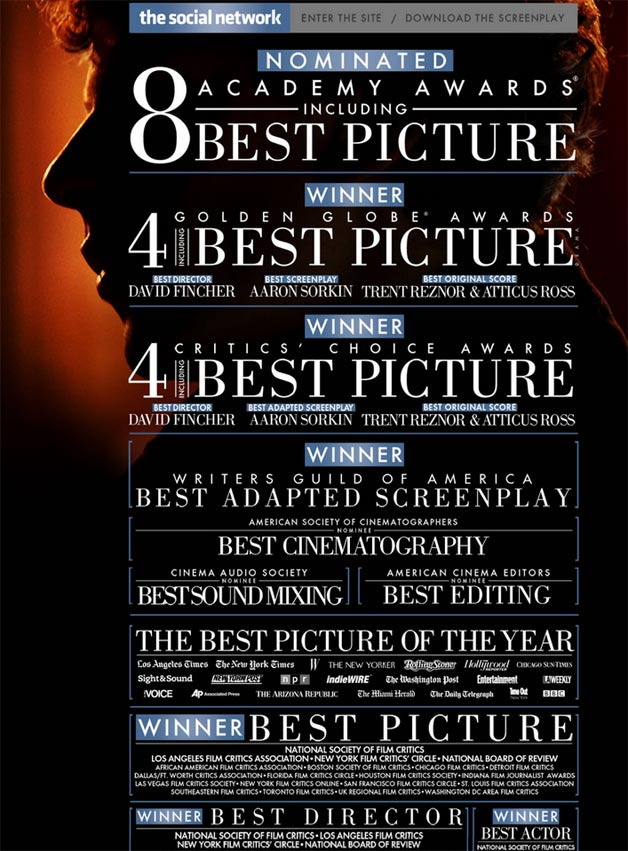 The film missed out on any wins at the Screen Actors Guild (SAG) Awards, though Eisenberg was nominated for Outstanding Performance By A Male Actor In A Leading Role.
At the Oscars, The King's Speech won Best Picture, Tom Hooper won Best Director for that film, Colin Firth won Best actor for it, Wally Pfister won Best Cinematography for Inception, and Lora Hirschberg, Gary A. Rizzo and Ed Novick also won Sound Mixing for Inception.