The Public Interest Registry, the organization that manages .ORG addresses, said today it's the first generic top-level domain (gTLD) to offer Domain Name System Security Extensions or DDNSSEC.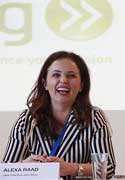 "We are proud to take this next step in DNSSEC deployment and transform the vision of a safer Internet into a reality," said Alexa Raad, CEO of .ORG, The Public Interest Registry.
"The public's interest is at the core of our mission at .ORG- especially as Internet usage continues to grow exponentially. DNSSEC serves as tamperproof packaging for DNS by not only preventing identity theft as a result of "man-in-the-middle attacks", but also enabling innovation in applications that rely on DNS."
.ORG is the third largest domain and its acceptance of second level signed .ORG zones comes after an extensive two-year process in the domain's rollout of DNSSEC. Registrars can offer added security protection to their users by allowing .ORG website owners to sign their domain name with DNSSEC validation keys.
"Registrants will benefit from the added ability to thwart certain specific types of cyber attacks," said Steve Crocker, Co-Chair of ICANN's DNSSEC Deployment Initiative.
"It will help curb threats like pharming, cache poisoning, DNS redirection and domain hijacking – all of which have been used to commit fraud, distribute malware, and identity theft."