Opera is set to unveil its Opera Mini browser at a press event during the Mobile World Congress in Barcelona. We contacted Opera to get some details.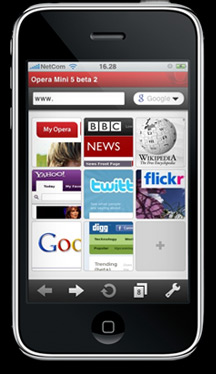 When asked what Opera Mini will be able to offer iPhone users that they haven't been able to get elsewhere, Opera's Katrin Jackson tells WebProNews that Opera Mini will provide speed, cost-savings, and usability features like tabs, speed dial, and password manager.
"Opera Mini on iPhone is several times faster than the native Safari browser," Jackson says. "Our internal tests conclude up to 6 times faster."
"For many users on pay per MB or while roaming, Opera Mini will reduce browsing cost up to 90%," Jackson adds.
Currently, Opera is only providing a sneak peek of Opera Mini on iPhone only (not iPod Touch). "We are thrilled to offer journalists and partners an exclusive preview of Opera Mini for iPhone during the year's biggest mobile event," says Opera Co-founder Jon von Tetzchner. "This is a unique opportunity to introduce the fast, feature-rich Opera Mini experience for the iPhone, and to showcase our latest beta releases of Opera Mobile and Opera Mini on other platforms and devices. Opera's mission is to bring the Web to the world, and by making Opera Mini available on yet another platform, we are one step closer."
Opera has not provided a date for a public release of Opera Mini for the iPhone. The company tells us that it has not yet submitted it to the Apple App store.

Related Articles:
> Opera Scoops Up Mobile Advertising Firm AdMarvel
> Opera Releases New SDKs and New Browser