Opera has released its new browser for Mac, and the company claims it is ten times faster, based on speed comparisons between Opera 10.52 and Opera 10.10.
"To all Mac users who value fast browsing, please meet Opera," CEO Lars Boilesen says. "Opera is a consistent performer on even the most congested networks, giving people the fastest browsing experience, coupled with a powerful feature set that is finely attuned to the needs of Mac users."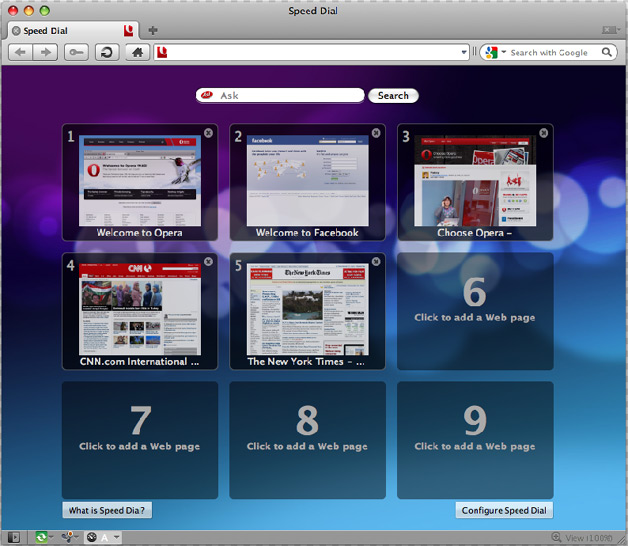 Opera lists the following reasons for Mac users to try Opera now:
1. Faster speed
2. "Mac-ified" UI – Opera has a new user interface for Mac, which it says is more responsive, and has a unified toolbar and design overhaul.
3. Finger navigation – Multi-touch trackpad gestures make browsing much more efficient. Pinch to zoom or use two fingers to scroll and three fingers to navigate back and forth in your browser history, all from your trackpad.
4. "Turbo-charged browsing – When surfing with your Mac on slow, congested networks, for example at an airport or on a train, Opera Turbo comes to the rescue, ensuring the fastest page loading no matter the crowd. Tests show that Opera Turbo provides about 65% faster browsing on Edge and around 50% faster browsing speed on 3G networks.
I can't vouch for the speed personally. I don't use a Mac, but let us know if you think it's a legitimate claim. The browser is available for download here.