For those who've maintained the idea ecommerce has it's limits, meet Snack&Munch. This start-up company has been receiving a lot of hype, being featured on both NBC.com and Mashable. The site is quite simple: Choose 24 snacks from a selection of 250, and pay $24 (shipping is included) to have the snacks delivered to you.
The site is well designed, with the snack section divided into a set of categories. They even provide an "International" section, which showcases vending machine snacks I don't even recognize. You can purchase a one time order, or set up a monthly recurring shipment which will shave off $1.00 per order.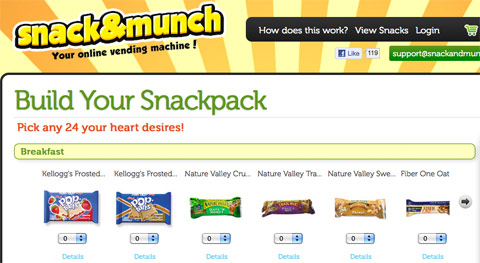 There are a few road blocks to keep Snack&Munch from succeeding. First, the vending machine visit is generally a spontaneous act. You're sitting in front of your computer screen working, and suddenly you crave a Twix. To order 24 snacks requires a lot of forethought for an act which happens at a moment's notice.
I'm not sure the prices for vending machines around the country, but $1 seems kind of steep for some of the items on their list. The classic peanut butter cracker six pack is $0.55 in my office's vending machine. However, it's the standard $1 on Snack&Munch. They should think about providing a greater variety when it comes to pricing, and making the price tags more competitive with the physical machines.
Snack&Munch, whether it succeeds or fails, demonstrates how the limits of ecommerce are continuing to be pushed in every direction. If something as simple as vending machine purchases can be brought to the online world, what's next?