Online retail spending in the U.S. reached $32.9 billion in the second quarter, up 9 percent over a year ago, according to a new report from comScore.
The growth rate represented the third consecutive quarter of positive year-over-year growth following a year of flat or negative growth rates.
"The second quarter's continuation of the first quarter's strong retail e-commerce growth rates is encouraging," said comScore chairman Gian Fulgoni.
"We remain cautiously optimistic heading into the second half of the year, but we will be keeping a close eye on unemployment rates, which along with potential uncertainty in the stock market could limit growth in e-commerce spending in the near term."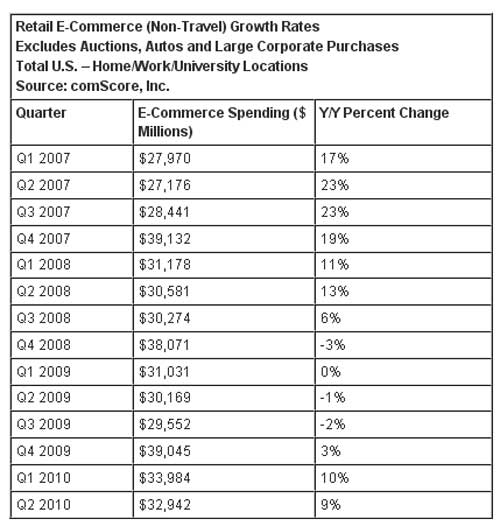 Other highlights from the Q2 report include:
*Upper-income households (those earning at least $100,000 annually) grew 17 percent compared to a year ago, about twice the overall ecommerce growth rate during the quarter.
*The most popular online product categories were: consumer electronics, computer software, computer peripherals/PDAs, and books and magazines
*Multi-channel retailers regained ecommerce spending market share compared to brick-and-mortar retailers following five consecutive quarters of declining market share.