Nokia said today it's releasing a new version of Ovi Maps for its smartphones that includes walking and driving navigation for free.
The move by Nokia to offer free navigation on its smartphones is widely seen as a way for the handset giant to boost sales and better compete with the likes of Google, which already offers free Google Maps Navigation in the 2.0 version of the Android operating system.
The new version of Ovi Maps includes car and pedestrian navigation features, such as turn-by-turn voice instructions for 74 countries in 46 languages, and traffic information for more than 10 countries, along with detailed maps for more than 180 countries.
"Why have multiple devices that work in only one country or region? Put it all together, make it free, make it global and you almost double the potential size of the mobile navigation market," said Anssi Vanjoki, Executive Vice President, Nokia.
"Nokia is the only company with a mobile navigation service for both drivers and pedestrians that works across the world."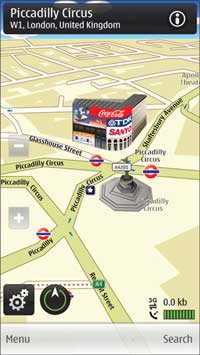 Ovi Maps is available for download for 10 Nokia handsets, including the Nokia N97 mini, Nokia 5800 XpressMusic and Nokia E72, with more Nokia smartphones to be added in the coming weeks.
In addition, starting in March, new Nokia GPS-enabled smartphones will include the new version of Ovi Maps, pre-loaded with local country map data, allowing users to view maps offline.
"The large-scale availability of free-of-charge mobile phone navigation offerings using high-quality map data will be a game changer for the navigation industry," said Thilo Koslowski, Vice President Automotive and Vehicle ICT at Gartner.
"Such offerings will accelerate mass market adoption for navigation solutions and shift innovation focus to location-based services that go beyond traditional routing benefits."
Related Articles:
> Google Unveils Nexus One "Super Phone"
> Google Reader's Mobile Interface Upgraded
> Critical Local Search Factors To Pay Attention To