Nokia said today it has named Chris Weber as President of Nokia (US), and head of Markets, North America.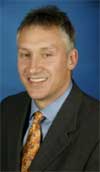 Weber comes to Nokia from his own consulting business focused on helping companies with sales. He spent 16 years at Microsoft in a number of senior executive roles, including sales, marketing and professional services.
Among his key roles were Corporate Vice President leading Microsoft's US Enterprise and Partner Group as well as heading the US EPG National Sales Excellence and Industry Organization.
"I am very excited to be part of the Nokia team at this time of change and incredible opportunity," said Weber.
"Nokia's new strategy will open up new possibilities, and we look forward to meeting and exceeding our customers' expectations in this market. We will work relentlessly on winning the trust of our customers and the hearts of consumers."