The NFL has partnered with Bloomberg to introduce "Decision Maker," an online fantasy football application that uses Bloomberg's analytic tool to help NFL fantasy football players pick their best starting line up each week.
"Our goal in re-launching the NFL.com Fantasy game was to provide our fans the best possible fantasy football experience," said Hans Schroeder, Vice President of Media Strategy and Development for the NFL.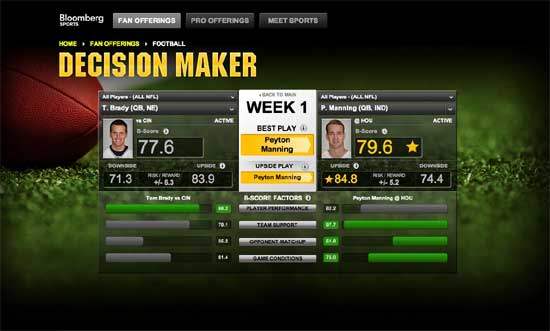 "We are excited to be working with Bloomberg Sports to offer our NFL.com Fantasy players the Decision Maker product for free as part of our Fantasy game, with the goal of further enhancing their fantasy football experience on NFL.com."
Decision Maker gives users the ability to compare any two NFL players' performance and predict which player at any position will have the best fantasy results.
The players are ranked by a system using analysis and formulas based on recent performance and other factors such as the opposing defense that week and the weather forecast at that week's stadium. Decision Maker also features a Risk/Reward Index, analyzing the consistency of NFL players and indicating long shot opportunities for players performance that are the most unpredictable.