Kobo announced that it is now offering newspapers and magazines for the Kobo Wireless eReader and its iPhone and iPad apps. The selection includes "dozens of top U.S. and Canadian publications". As an added bonus, the company is offering a two-week free trial period.
Kobo is backed by Indigo Books & Music, Borders, REDgroup Retail, Cheung Kong Holdings, and others. In July, Borders launched its own branded eBook store powered by Kobo. At that time, Border CEO Mike Edwards said, "The race to emerge as a retail leader within the digital category is just starting."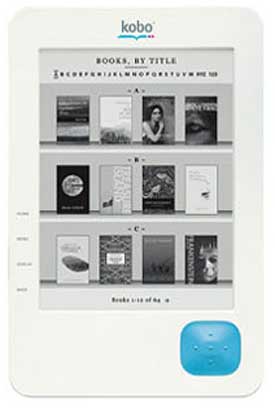 Since then, Samsung has unveiled its Android-powered Galaxy Tab, and Kobo announced that it would be supplying the e-reader technology for it. Kobo has apps for the iPhone, iPad, BlackBerry, Android, and Palm Pre.
Today's announcement, however, only applies to the reader, the iPhone and iPad apps at this point. Publications include: The New York Times, The Wall Street Journal, The Scientist, The Seattle Times, Wilson Quarterly, Foreign Affairs, American Scholar, China International Business, Columbus Dispatch , Guideposts, Harvard Business Review, National Review, New York Observer, PC Magazine, Publishers Weekly, Reason, The Christian Science Monitor Daily Briefing, The Nation, Calgary Herald, Edmonton Journal, Montreal Gazette, National Post, Ottawa Citizen, Regina Leader-Post, Saskatoon Star-Phoenix, Vancouver Province, Vancouver Sun, Victoria Times-Colonist, and The Globe & Mail.
The company says it will continue to expand its offerings in this area. The newspapers' and magazines' formats are emulated on Kobo's offerings. Still, readers can customize text sizes.
"Kobo continues to build on our commitment of making sure that consumers have the best reading experience on any device with the largest selection of content worldwide," said Kobo CEO Michael Serbinis. "We've had tremendous success with eBooks and we're very excited to expand the Kobo offering to include newspapers and magazines with a two-week free trial, allowing consumers to try first without any obligation. We continue to bring on top publishers to ensure that Kobo's newspaper and magazine offering meets our customers' highest expectations."
After the two-week trial, monthly subscription prices start at $13.99 for newspapers and $2.99 for magazines. Kobo also claims to have over 2.2 million eBooks available.