There has been a lot of talk of late about how the New York Times would probably be moving towards a paid model for its online content. The newspaper has now come right out and said that starting in early 2011, visitors to NYTimes.com will get "a certain number of articles" for free every month, before asking to pay a flat fee for unlimited access. Subscribers to the print edition would receive full access to the site for no additional charge.
There are still a lot of details to be worked out from the sound of it, and since the change won't go into effect for a year, maybe they will have enough time to get it right. However, publishers have been trying to get this right for years already, and are still struggling to find that true answer. You have to wonder, what makes them think they can get the details ironed out by then?
It would be one thing to announce it and start doing it. Other publications do this, but a year is an incredibly long time in the online world. There are so many things that could happen and questions that may still remain unanswered in the online news industry. News Corp. for example, has set off a firestorm over whether or not people should be able to freely link to free content on the web. There are just so many things that come into play that it seems rather strange to assume everything will fall into place a year from now. Who knows what condition the industry will be in by then? Publications that are using paid models right now may decide it's not working and switch to a different plan. To reiterate, a year is a long time, particularly in an industry with so many question marks.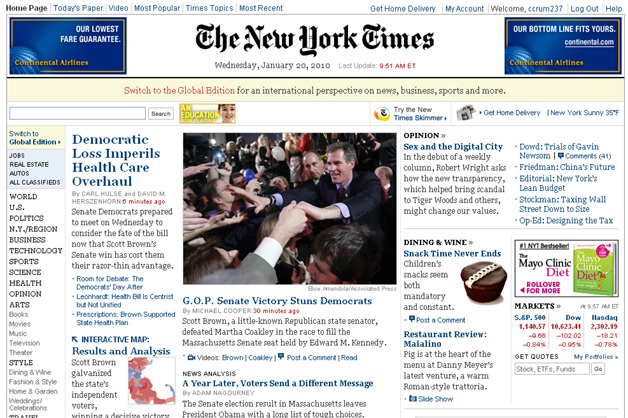 "This announcement allows us to begin the thought process that's going to answer so many of the questions that we all care about," Arthur Sulzberger Jr., the company chairman and publisher of the newspaper is quoted as saying. "We can't get this halfway right or three-quarters of the way right. We have to get this really, really right."
I would say the thought process has been in motion for some time, and it's hard to imagine setting a deadline for the discussion to wrap up in such a timeframe. Does setting such a deadline suggest a hint of desperation? The Times says that any changes will be closely watched by other publishers of online content, and there is no doubt that this will indeed be the case.
The publication refers to Nielsen Online and analysts' data indicating that NYTimes.com is "by far" the most popular newspaper site in the country with over 17 million readers a month in the U.S. alone.
Do you read the New York Times? Would you pay for frequent access or get your news from other sources? Share your thoughts.
Related Articles:
> New York Time's Could Announce Paid Model This Week
> Do You Have the "Right" to Link?