Netflix said today it has reached an agreement with Nintendo that will allow Netflix members who own a Wii to instantly stream movies and TV shows directly to their TVs.
Netflix is scheduled to go live on the Wii this spring in the United States at no additional cost to Netflix members who have a plan starting at $8.99 a month, a Wii console and a broadband Internet connection.
"Our goal is to offer Netflix members as many ways as possible to watch movies and TV episodes streamed from Netflix right to their TVs and to give non-members more and compelling reasons to consider the service," said Netflix co-founder and CEO Reed Hastings.
"Joining forces with Nintendo, which has been so immensely popular with consumers since its introduction, is a very meaningful step in that direction."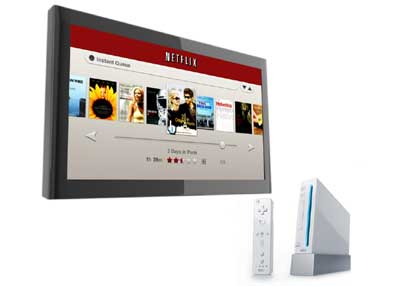 Netflix already has deals in place to stream movies and TV episodes on Microsoft's Xbox 360 and Sony's PlayStation 3.
Wii remains the fastest-selling game console in history, and reaches more consumers than any other device that currently offers streaming movies from Netflix. In December 2009, Nintendo sold over 3 million Wii consoles in the United States.
"Soon both new and longtime Wii owners will enjoy the benefits of Netflix – and a variety of informational and entertainment options – by being Netflix members and connecting their consoles to the Internet," said Nintendo of America President Reggie Fils-Aime.

Related Articles:
> Warner Bros. And Netflix Reach New Deal
> Best Buy To Launch Online Movie Service
> Coming Attraction: Netflix on your PS3