Customer satisfaction with ecommerce websites has rebounded a year after experiencing its first decline since 2004, according to the American customer satisfaction Index (ACSI).
The e-commerce sector gained 1.8% to 81.4 on ACSI's 100-point scale, nearly matching its all-time high of 81.6 set in 2007.
The increase in the overall ecommerce sector (made up of e-retail, online brokerage, and online travel industries) is driven by the rebounding online brokerage industry, which climbed 5 percent to 78 after it lost 6 percent last year during a crashing stock market. Both e-retail (1% to 83) and Internet travel (3% to 77) also improved over last year.
"It's no surprise that satisfaction with online brokerages is linked to the stock market. When the market crashes, customers aren't happy. When it recovers, they feel better about their experience," said Claes Fornell, ACSI founder, professor at the University of Michigan.
"But the improvements in e-retail and online travel are a good sign that consumers may be ready to spend again, if they can find the means to do so."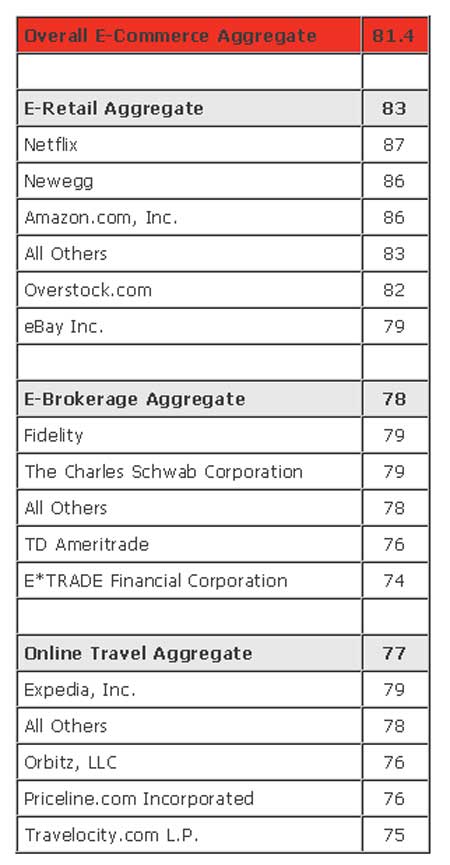 The online financial services industry improved more than any other. Fidelity continues to lead the sector (79) along with Charles Schwab (79). The improvement in the industry overall is largely due to big gains by E*Trade (7% to 74) and TD Ameritrade (7% to 76).
E-retail increased 1 percent to 83 and continues to be the highest scoring industry in the ecommerce sector. Satisfaction with online retail exceeds satisfaction with brick and mortar retail (76). E-retail is the only industry in the ecommerce sector to score above 80, which is considered the starting point for excellence for the Index. Netflix (2% to 87) leads the Index for the first time, trailed closely by Newegg (86) and Amazon (86).
"The dramatic increase in satisfaction with the e-retail industry over the last ten years has been driven largely by the success of pure-play e-retailers" said Kevin Ertell, Vice President of Retail Strategy at ForeSee Results.
"The retailers who are only selling online have, for the most part, paid better attention to customer needs and expectations and have worked to create a better online software experience for their customers."
Customer satisfaction with online travel increased for the first time in five years, matching its all-time high of 77.
Expedia (79) remains the top-score of the sector. Priceline experienced the biggest gain increasing 7 percent to 76.