Netflix has announced it has entered into a syndication agreement with Lionsgate to stream the first four seasons of the AMC series "Mad Men" starting July 27.
Additional seasons of "Mad Men" will be available after they have aired on the AMC network.
The deal is valued between $75 million and $100 million, according to the Wall Street Journal. Netflix is paying nearly $1 million per episode for the series.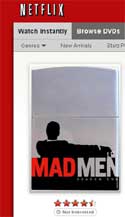 Lionsgate announced last week that it has entered into a new three-year agreement with "Mad Men" creator Matthew Weiner to continue as showrunner and "Mad Men" will return to AMC for Seasons 5 and 6 with the expectation of a seventh season as well.
"Mad Men has been and continues to be a representation of TV at its best and Netflix is proud to be the syndication home for this acclaimed series," said Ted Sarandos, Chief Content Officer at Netflix.
"This deal secures long term instant access to an iconic show for Netflix members for years to come." 
Under a separate agreement, the first four seasons of "Mad Men" are already available to watch instantly streaming from Netflix in Canada.