The NCAA has unveiled a new website NCAA Vault, which features video highlights and full games of the NCAA Men's Basketball Tournament going back to 2000.
The NCAA Vault lets users search for individual plays and highlights from their favorite NCAA men's basketball teams and players from the Sweet Sixteen through the championship games.
Visitors to the NCAA Vault can comment on specific moments within the games and share them through links or via Twitter and Facebook. Comments will appear on their Twitter and Facebook pages with links back to the exact moments in the games.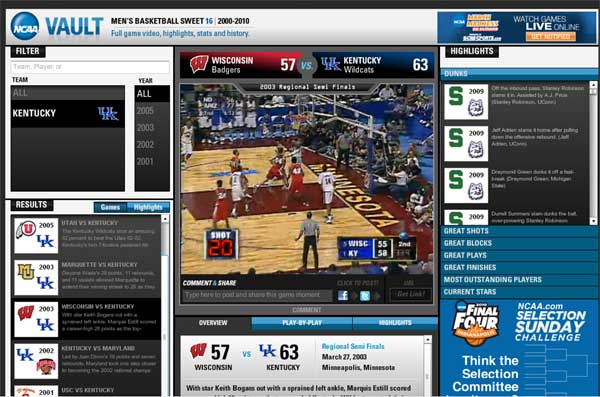 NCAA Vault is powered by Denver-based Thought Equity Motion, which specializes in digitizing and archiving videos.
"Through our proprietary technology, we've made the NCAA's March Madness content accessible to fans in a way that's never been done by a sports rights holder," said Kevin Schaff, CEO and founder of Thought Equity Motion.
"This Vault experience extends the life of the tournament and enhances the excitement of March Madness at NCAA.com, increasing visitor engagement and dwell time, while also creating new advertising and sponsorship opportunities."