The NCAA said today along with its broadcast partners CBS Sports and Turner Sports, that it will make every March Madness basketball game available for free online as as well as on iPad, iPod touch and iPhone.
Last year, the NCAA March Madness was available as a paid app for iPhone and iPod touch. Also available this year are free streams of the tournament outside of the U.S.
New features of March Madness on Demand (MMOD) include improved live viewing with better quality and larger streams, a personalizable channel lineup option, and live stats.
"MMOD is the primary online destination for fans of NCAA March Madness," said Greg Shaheen, Interim Executive Vice President of Championships and Alliances, NCAA.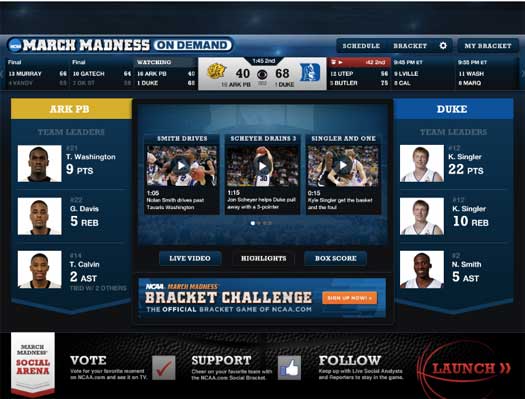 "The NCAA enters a new dimension with Turner Sports and CBS Sports that provides men's basketball fans with enhanced features that will further enrich their online and mobile viewing experience."
Additional features include:
*My Channels- The online, iPhone, iPod Touch and iPad apps list all four TV networks: TBS, TNT, truTV and CBS by default. Through My Channels, users can plug in their zip code, select their TV provider and see their channel lineup for every game.
*The Game Center View- Users can follow stats of every team while watching games on TV.
*The March Madness Social Arena- Will allow people to connect to Facebook and NCAA.com and "Like" teams in each round.
The tournament field will be announced on Selection Sunday on March 13 on CBS and the tournament will begin with the First Four airing in primetime on Tuesday, March 15 and Wednesday, March 16 on truTV.