Anyone who's sneered at the idea of using the iPad as video-watching device, citing the laptops, desktop monitors, and TVs that offer larger viewing areas, might have to reconsider their stance on the grounds of "something's better than nothing." MySpace intends to let iPad users see at least the occasional movie trailer before everybody else.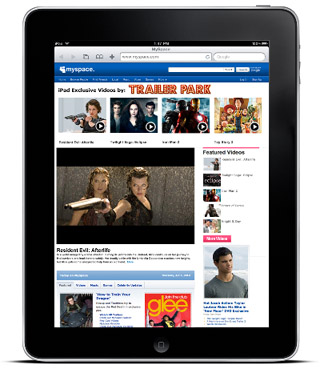 Today marks the first time that this is occurring, with iPad users getting to view what's been billed as the "exclusive debut" of the Resident Evil: Afterlife trailer. At some point, iPad users should get the opportunity to see a trailer for Step Up 3D prior to the general public, too.
Of course, this tends to raise the question of how MySpace intends to separate out its regular visitors from iPad users, and on the MySpace Blog, COO Mike Jones addressed the issue by writing, "[U]sers who visit MySpace.com through the iPad Web browser will see specially customized content."
Jones also promised, "iPad users can also view full 1080p HD trailers for some of the most highly anticipated movies of the year . . ."
So it looks like MySpace – along with Google, Yahoo, and just about every other company in the world – will be trying hard to win over iPad users. It should be interesting to see what the social network can achieve.