MySpace announced its new redesign along with a new suite of products today. These, the company tells us, will "redefine the company as a social entertainment destination for Gen Y." We'll see.
"Myspace is creating a rich, highly-personalized experience for people to discover content and connect with other fans who share similar interests," MySpace Director of Corporate Communications Laurie Spindler tells WebProNews. "The entertainment experience spans music, celebrities, movies, television, and games and will be available through multiple platforms, including online, mobile devices and offline events." She says the new MySpace will empower users to:
– Discover and engage with Myspace's broad array of content, including original and exclusive programs and content from around the Web.
– Express, collect and display their creations and interests on their profiles and through sharing tools.
– Connect to other fans with similar tastes.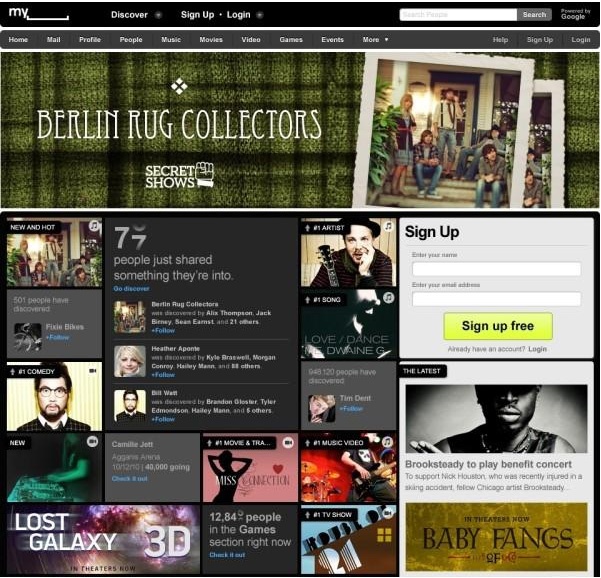 "This marks the beginning of an exciting turning point for Myspace. Our new strategy expands on Myspace's existing strengths – a deep understanding of social, a wealth of entertainment content and the ability to surface emerging cultural trends in real time through our users," says CEO Mike Jones. "Myspace is unique in that it is powered by the passions of our users, who program the site by expressing interests, sharing tastes and knowledge around particular topics, and scouting out up-and-coming subcultures. This is the just the first step and there will be many more features, programs and improvements to come."
The suite of products includes: "Topics," "Content Hubs," a "Personalized Stream," "Recommendations," "Right Now on MySpace", a "Discovery" Tab, a "My Stuff" Tab, and Badges.
For "Topics", MySpace has over 20,000 entertainment-related pages organized around specific topics which include aggregated info from news sites and blogs. Content hubs are places for movies, TV, and celebrities that include trending articles, news, videos, photos, etc. The personalized stream learns what to feature based on user preferences and habits. The Recommendations feature recommends relevant topics and other fans. "Right Now on MySpace" shows trending content in real time and spotlights recently added music and videos. The "Discovery" tab combines videos that friends are watching with trending content. The "My Stuff" tab features personal profiles, videos, photos, and other uploaded content. Finally, badges reward curators and fans for social activity around entertainment topics.
With all of this, MySpace is launching a new brand identity, including a new logo that's been seen for weeks now.

The new MySpace begins rolling out today in beta, and will be available to all users by the end of November, according to Spindler. New users will have immediate access to the beta site.
Will the new MySpace entice you to use the site more? Let us know what you think.