It has many names – Cathedral of the Protecting Veil of the Mother of God, Cathedral of St. Vasily the Blessed, and of course St. Basil's Cathedral to most English speakers. But whatever you call it, the beautiful Russian church is the subject of today's Google Doodle.
The Cathedral, which sits in Moscow's Red Square, has been part of the Kremlin and Red Square UNESCO World Heritage Site since 1990. It was begun in 1555 at the behest of Ivan the Terrible and completed in 1561, and is celebrating its 450th anniversary.
Here's how it is described on its official site, saintbasil.ru –
It is for nearly 450 years now that this architectural ensemble of inimitable beauty and grandeur has been filling our hearts with joy, excitement and pride.

The Cathedral of the Protecting Veil of the Mother of God upon the Moat was built in fulfillment of a vow made by Czar Ivan the Terrible before his campaign against Kazan in 1552 and with the blessing of Metropolitan Makary. The cathedral was constructed under the supervision of Russian master builders Postnik and Barma in 1555-1561. Uniquely conceived by Metropolitan Makary, the cathedral was to epitomize the image of the Holy City of Jerusalem.

As a result, its nine churches, most of which were consecrated in memory of major events of the victorious Kazan campaign, were built on a single foundation.
It has been secularized and now operates as a state museum.
Here's a photo from Wikipedia –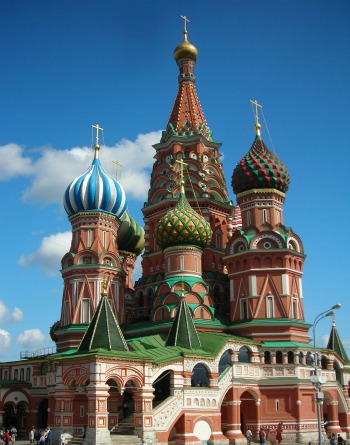 And here's an awesome Lego version –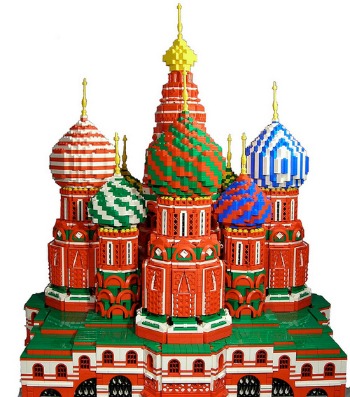 Also, here's some YouTube video from inside the cathedral –
What do you think of today's St. Basil's Google Doodle? How does it rate in comparison to other recent Google Doodles? Let us know what you think.