With the 2010 NCAA Men's Basketball Tournament starting next week (March 16), it's no surprise the majority (83%) of fans will watch coverage on television, while 44 percent will go online and 10 percent will use a mobile device, according to a new survey by Unicast.
Among those planning to follow the tournament online or on a mobile device, a majority will visit ESPN.com (69%). Other branded popular sports sites fans plan to visit include Yahoo Sports (42%), Fox (24%), CBS (29%), and AOL (17%).
More than a quarter of fans following the tournament (26%) will visit NCAA.com, while 17 percent will type in the URL for their favorite team.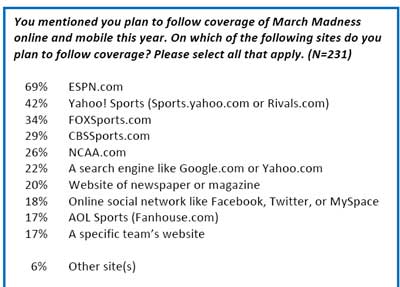 Fans will also gather information on the tournament via search engines (22%), social networks (18%), or newspaper/magazine sites (20%).
"On the heels of the extensive online coverage of the Winter Olympics in Vancouver, the NCAA Men's Basketball Tournament offers online publishers another premium sporting event that will generate high traffic from consumers looking to follow the tournament outside their living rooms," said Bryan Hjelm, VP of Marketing for Unicast.
"Digital innovations like iPhone apps, online bracket tools and streaming video are bringing basketball fever to a growing online audience of fans.
"Sites like ESPN.com and Yahoo! Sports will dominate traffic due to their inherent sports fan user base, which make them prime real estate this month for marketers targeting the typical visitor – men aged 18 to 35."
The most popular online activities for those following March Madness include:
*58% Monitor scores
*54% Watch games live
*53% Check the status of brackets
*49% Watch game highlights
*42% Fill out brackets/participate in a pool