Nearly three-quarters (74%) of Americans feel that the easiest way to complete their holiday gift purchases is online, while 87 percent favor brick-and-mortar stores, according to research firm StrategyOne.
When it comes to finding the best deals overall, Americans are divided — with 52% stating they found the best deals online, while 48% say they could find the best deals in retail stores.
From its recent public opinion poll of 1,052 Americans, StrategyOne, also found that 54% of Americans think shopping online is the best way to ensure their spending doesn't exceed their holiday gift budget.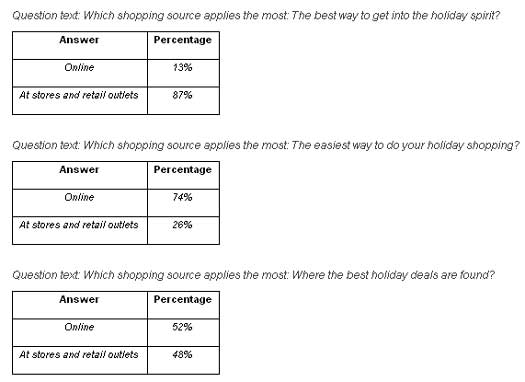 "Online retailing has quickly and increasingly become a crucial segment of the holiday shopping season, which can be seen in the growing popularity of 'Cyber Monday' as well as the significant Thanksgiving Day online spending," said Bradley Honan, senior vice president of StrategyOne.
"But clearly, there are still aspects of the retail experience, like the holiday spirit, that can't be matched online."
The StrategyOne survey also found that U.S. consumers are disappointed this season by the lack of bargains in stores and surprised by higher-than-expected retail prices. Sixty-eight percent said there were not nearly enough low prices, and 45% experienced sticker shock with prices that were generally higher than they expected.
"With Black Friday and Cyber Monday behind us, a substantial number of consumers have begun to make their holiday purchases," said Honan.
"However, the market remains largely open for retailers and marketers to reach their target audiences across all channels of the retail marketplace, and value clearly remains a top priority for consumers this holiday season."