More than a third (35%) of U.S. adults have applications or "apps" on their phones, yet only 24 percent of adults use those apps, according to a new report from the Pew Internet & American Life Project.
Many adults who have apps on their phones, particularly older adults, do not use them, and 11 percent of cell owners are not sure if their phone has apps.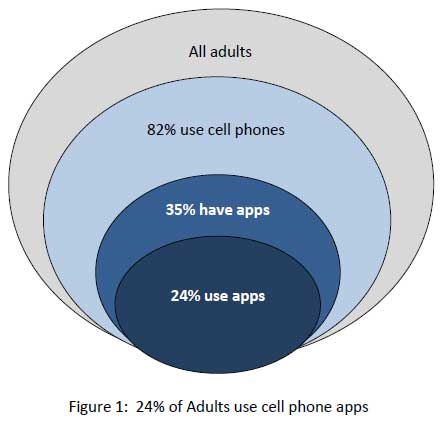 Among cell phone owners, 29 percent have downloaded apps to their phones and 13 percent have paid to download apps. . In addition, 38% of adult cell phone users have purchased a phone with pre-loaded apps. That comes to 43% of cell owners who have apps on their phones and 23% of cell owners have both pre-loaded and downloaded apps on their cell phones.
"An apps culture is clearly emerging among some cell phone users, particularly men and young adults," said Kristen Purcell, Associate Director for Research at the Pew Internet Project.
"Still, it is clear that this is the early stage of adoption when many cell owners do not know what their phone can do. The apps market seems somewhat ahead of a majority of adult cell phone users."
Apps use does not rank at the top of non-voice cell phone activities people use on the handhelds. More than seven in ten cell owners take pictures on their phones (76%) and use their phones to send/receive text messages (72%).
Among cell phone users with apps, the average adult has 18 apps on his or her phone. Some 18% of cell phone users with apps on their phones do not know how many they have.
Nearly half (47%) of app downloaders have paid for an app, with the rest saying they only download free apps. This means that one in eight adult cell phone users (13%) has paid to download an app, with most paying less than $3.
Cell phone screen real estate is valuable for some users. Majorities of apps users say they organize their apps so that the most frequently used are easily accessible (59%), and that they delete apps from their phones that are not useful or helpful (56%).
Other highlights from the report include:
*Apps users are mostly male (57% male v. 43% female), and are more likely than other adults and other cell phone users to be college graduates (39%) and to have incomes of $75,000 or more (36%).
*18-29 year-olds make up only 23% of the total U.S. adult population but constitute almost half (44%) of the apps using population. In contrast, while 41% of the adult population is age 50 and older, that age group makes up just 14% of apps users.
*52% of 18-29 year-old cell users have downloaded an app, but that figure drops to 31% among 30-49 year-olds and 11% among cell users age 50 and older.