It's no secret that Myspace has lost the Internet status it once had, particularly as Facebook has risen to social network dominance. TechCrunch reported this week that Myspace's decline is even accelerating with worldwide unique visitors decreasing by 14.4% from January to February (comScore).
Myspace has been trying to rebrand itself as an entertainment hub, and one of the ways it has been trying to fight off dropping traffic is with celebrity "hijacks," announced in December.
Myspace Hijacks allow celebrities to take over Myspace, and showcase the things that they like. Myspace started the concept with the Black Eyed Peas. Now, it is Victoria Secret supermodel (and actor Orlando Bloom's wife) Miranda Kerr, who has hijacked Myspace with a focus on Earth Hour.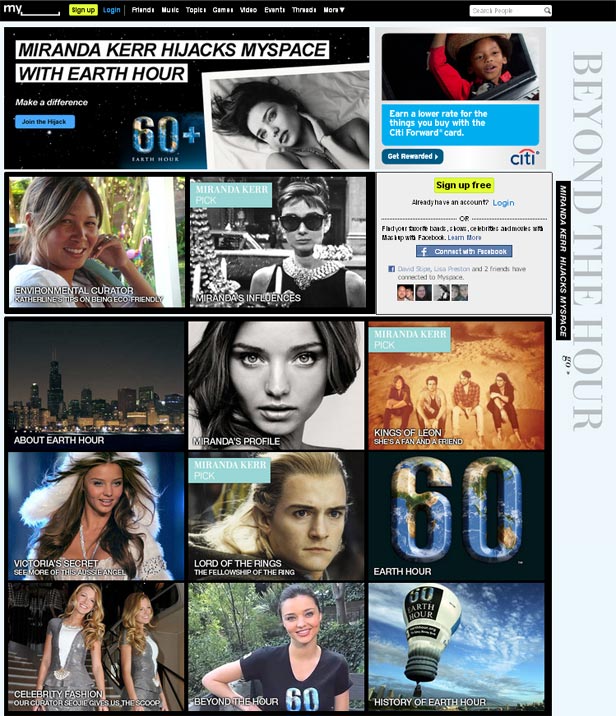 "Myspace was the very first social network to come on board for Earth Hour back in 2007," said Andy Ridley, Co-Founder and Executive Director of Earth Hour. "Fast forward to 2011 and social media has become critical to the success of our global event, so much so that the very crux of our Beyond the Hour platform has social media at its very core. I know that Miranda will be encouraging people around the world to go beyond the hour – and I've no doubt that we'll see that challenge met by the passionate Myspace community."
"As the global ambassador for Earth Hour this year I'm excited to be in a position to reach out to the Myspace audience for such an important cause," said Kerr. "It will be fun to share the things I love with such a huge global community as well as this year encouraging as many people as possible to go 'beyond the hour' and adopt even more sustainability practices in their everyday lives."
It is important to note that despite Myspace's declining traffic, the site does still attract millions of users.
"Simple things like unplugging appliances when not in use, turning lights off and using candles instead, buying products packaged in recyclable material are all ways in which we can reduce the impact on our planet.  Little things we do as a community or as individuals make a difference," she added.

Miranda Kerr is Hijacking Myspace!

Miranda Kerr | Myspace Video
Noble causes aside, Myspace will continue to focus on celebrities and entertainment to keep people interested in the site in the Facebook age. Music has long been one of Myspace's strongest points, but the future is uncertain there. While they did release some tools for musicians in December, and Myspace Music did partner with Songtrust last month, news also came out that President Courtney Holt was stepping down. MySpace's director of business development, Rita Garg, went to Twitter as well. In January, Myspace even said News Corp. was considering "a number of possibilities including a sale, a merger, and a spinout."
As far as Earth Hour, there is also an iPhone app for it too.