Yesterday morning, thousands of Microsoft employees celebrated Steve Ballmer's 30th year with the company. This afternoon, they – along with many independent shareholders – are probably cheering again, as Microsoft reported record results for the past fiscal quarter.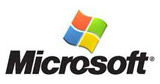 Revenue for the quarter rose an impressive 22 percent compared to the same period last year, hitting $16.04 billion. Analysts only expected Microsoft to report $15.30 billion.
As for the rest of the good news, Microsoft's PR team summed up the last few months by writing, "Operating income, net income and diluted earnings per share for the quarter were $5.93 billion, $4.52 billion and $0.51 per share, which represented increases of 49%, 48% and 50%, respectively, when compared with the prior year period."
And analysts also embarrassed themselves with regards to those figures, in case you're wondering, predicting just $5.30 billion in operating income and earnings per share of $0.46.
The one problem with Microsoft's report is that the Online Services Division came up short, reporting a loss of $696 million. Still, it's no secret that the company's efforts in this area are something of a work in progress.
Kevin Turner, Microsoft's COO, gave his take on the situation by stating, "We saw strong sales execution across all of our businesses, particularly in the enterprise with Windows 7 and Office 2010. Our transition to cloud services is well underway with offerings like Windows Azure and our Business Productivity Online Services, and we look forward to continuing our product momentum this fall with the upcoming launches of Windows Phone 7 and Xbox Kinect."