Don't be shocked if one or more shrines to Windows 7 are erected in Redmond today. Microsoft released its quarterly earnings report this afternoon, and thanks in large part to the new operating system, the company's numbers look quite good.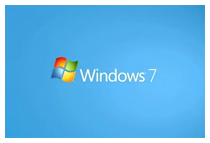 Analysts thought Microsoft might report something like $17.84 billion in revenue and earnings per share of 59 cents. Microsoft overshot those forecasts by a significant amount, posting $19.12 billion and 74 cents, instead.
That puts the company up 14 percent and 57 percent, respectively, on a year-over-year basis. And it would be an understatement to say that victories of this nature don't occur every day, particularly given our economy's current condition.
So if you're happy (and as you'll see in a minute, investors are), think well of Windows 7. A record for Windows units was set last quarter, and Peter Klein, Microsoft's CFO, said in a statement, "Exceptional demand for Windows 7 led to the positive top-line growth for the company. Our continuing commitment to managing costs allowed us to drive earnings performance ahead of the revenue growth."
Unfortunately for Microsoft, things didn't go so well in every respect. The Online Services Business lost a whopping $466 million, which makes for a significantly worse performance than last year (when it lost $320 million).
Then, one other possible cause for skittishness is the fact Microsoft hasn't yet given any guidance. Windows 7 can't sell well forever, after all.
Still, investors have received Microsoft's news with open arms and fists full of dollars. Even though the Dow and Nasdaq both sank today (by 1.13 percent and 1.91 percent), Microsoft's stock is up 1.47 percent in after-hours trading.
Related Articles:
> Bing Now Offering More Finance Information