While this development isn't likely to amuse everyone behind the BlackBerry Torch's launch, Apple fans may be glad to know that Microsoft acknowledged the iPhone's importance in a small way today, discussing the new Bing for Mobile iPhone app as it relates to shopping.
This app is of course free, and the shopping section can be accessed just by clicking on "Shopping" from the homepage. As for what it's supposed to do, the app is meant to provide a complete, start-to-finish shopping experience rather than just determine where stuff is available or compare prices.
A post on the Bing Search Blog explained, "[Y]ou can find products, see ratings, and read reviews. Search with your camera, your voice, or your keyboard to find brand-name products and compare prices. Not sure what to get for her birthday? No problem, we provide you with a list of product categories of the most popular items."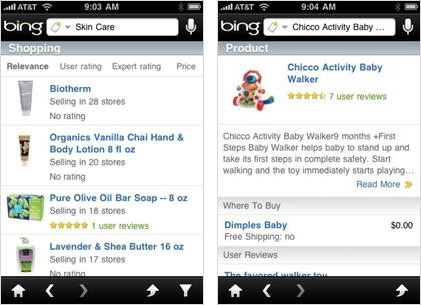 That's not to say the app is perfect; in Microsoft's own screenshots, you can see that a product's price is given as $0.00, which doesn't seem quite right. So iPhone owners might still be better off using more than one tool or just heading for a desktop computer when it's time to do some serious shopping.
The Bing for Mobile iPhone app obviously has quite a lot to offer, though, and Microsoft's demonstrated that it's not focusing on the upcoming Windows 7 Phone devices to the exclusion of everything else.
That's good news for both Microsoft and Apple, if not so much for RIM.