Privacy issues aside, it's hard to complain too much about products like Bing Streetside and Google Street View, considering such tools were until recently nonexistent. But Microsoft has previewed its next-generation mapping tool, dubbed Street Slide, and it promises to up the ante in several ways.
First, consider the jumpy nature of current offerings, which offers users viewpoints only every so often. Street Slide's approach is to piece images into a continuous strip, providing an unbroken look. Also, because the picture's somewhat zoomed-out, Street Slide provides a better perspective of streets as a whole.
That leads us to a second problem with Streetside and Street View: they make it easy to get lost in a blur of buildings. Street Slide corrects this by showing addresses above the images. Clickable logos and/or ads may also be presented, and users would probably welcome them.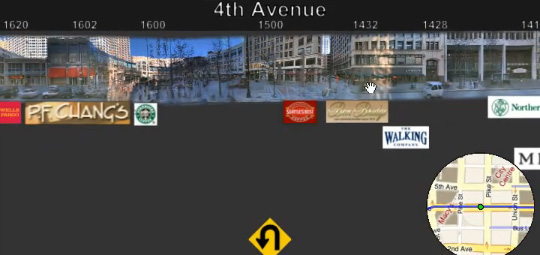 Then here's one more interesting fact: Michael Cohen, a principal researcher at Microsoft Research, told Tom Simonite that people who choose to link Street Slide to a social network might even be able to see the locations of their opted-in friends.
The sole problem with Street Slide looks to be one of coverage. It's already hard enough to find places where Bing Streetside functions; it seems unrealistic to expect that Street Slide would work in more than a few areas anytime soon.
Still, the tech should find a lot of fans whenever it arrives. Let's hope Microsoft doesn't need too long.