Microsoft released its earnings report this afternoon, and for better or worse, seemed to follow a pattern established by Google, Yahoo, and eBay. Which is to say: Microsoft beat analysts' estimates, but is getting roughed up in after-hours trading.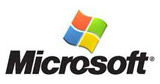 Analysts thought Microsoft would report $14.4 billion in revenue and earnings per share of $0.42. The company instead managed to report $14.5 billion in revenue, and that amount represents a six percent year-over-year increase and sets a record.
What's more, in the earnings per share department, Microsoft reported $0.45, and that works out to an impressive year-over-year increase of 36 percent.
Fans of Microsoft's online offerings should be pleased to hear that the company's success wasn't just due to new computer sales and old system upgrades, either. Peter Klein, Microsoft's CFO, said in a statement, "Windows 7 continues to be a growth engine, but we also saw strong growth in other areas like Bing search, Xbox LIVE and our emerging cloud services."
Microsoft's online services division did lose $713 million, however, compared to $411 million for the same period last year. And perhaps as a result, Microsoft's stock is down 3.79 percent in after-hours trading.