Microsoft and Facebook have "enhanced" their partnership with each other. The two companies will soon be providing Facebook users with what Microsoft refers to as a "more complete search experience". They will be providing full access to Bing features in Facebook. In addition, the Bing and Facebook connection will be extended globally.
Facebook will be taking over full responsibility for selling its own display ads, although Microsoft will continue to provide search ads. "Given the kinds of advertisements that make sense within a product as unique as Facebook, it just made more sense for them to take the lead on this part of their advertising strategy," says Bing General Manager Jon Tinter.
"Bing will continue to exclusively power the web search results on Facebook," he adds. "This change will also enable Microsoft to continue its focus on driving strong performing campaigns across our own social media and communications tools, including Windows Live Messenger and Hotmail, and via rich content environments across MSN and Xbox Live."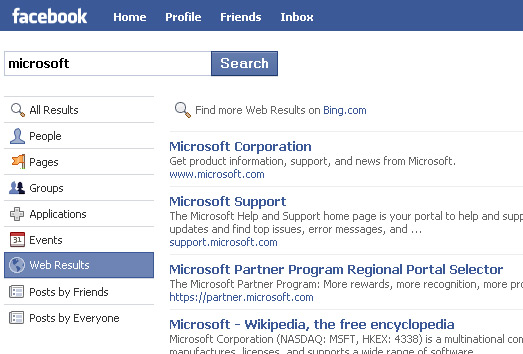 "Going deeper in web search experiences with Facebook, in addition to the collaboration we announced last October about bringing public data from Facebook's API into the search experience, will enable us to do great things together for our customers," he says.
The product of this enhanced relationship between the two companies will start being felt among users in the coming weeks and months. It will be interesting to see if Yahoo advertising gets involved if the Microsoft-Yahoo deal ever sees the light of day.
Related Articles:

> Respond to Facebook Comments From Your Email
> Pingdom Names Facebook "Most Engaging Social Network"