Yahoo sent us some information on March Madness search trends, which seemed worth sharing, in the spirit of alll the current NCAA Tournament action.
According to the company, 34% of searches this week on Yahoo for "March Madness" come from females. The states searching for the term the most are: Ohio, Illinois, and California.
The top searched mascots, Yahoo says, are: Brutus (Ohio State Buckeyes), "The Mighty Bevo" (Texas Longhorns), the "Rowdy Reptile" (Florida Gators) , "Rock Chalk the Jayhawk" (Kansas), and Duke's Blue Devil.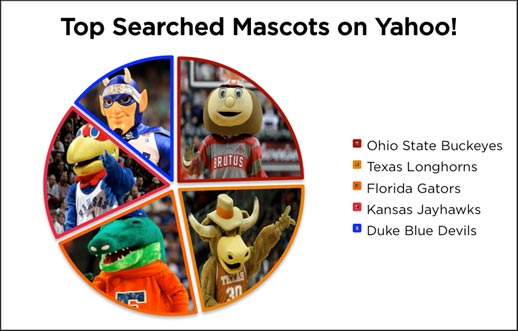 The top searched teams are: Ohio State, Duke, and BYU. Specific things people have wanted to know the most, according to Yahoo, are: Will Illinois make the NCAA Tournament? (They did), Who is playing in the NCAA Tournament?, Where is Duke University? (Answer: Durham, N.C.), and What is RPI in college basketball? (Answer: Rating Percentage Index).
Yahoo says it comes up with this data by sifting through billions of Yahoo searches.
On a related note, ESPN experienced a record number of March Madness bracket entries.