The Final Four is this weekend, as college basketball does its best to hold off the oncoming doom of an overlong Major League Baseball season. It's the culmination of a crazy season, a weirdness that's been personified by the teams that made it to Houston to play for college basketball's National Championship.
One one side of the Final Four bracket, you have Kentucky and the University of Connecticut going at it in a battle of traditional basketball powers. On the other side, however, upstarts reign supreme in the form of Virginia Commonwealth and the Butler Bulldogs. While it's true this is Butler's second-straight trip to the Final Four, their appearance in the 2011 Final Four still comes as a surprise. That being said, whatever shock Butler's inclusion may cause, it's being overshadowed by completely unexpected VCU Rams.
While the details of VCU's amazing run to the Final Four will be spared — learn more here if interested — the fact that the Rams are such and unexpected participant has had an impact in regards to Google searches. As is becoming the norm, whenever there's a sporting event of note, certain Internet services like Google track the interest level of each team the only way they know how: with analytics.
According to Google's blog, VCU is the most popular team, in terms of search volume. Of course, one of the main motivating factors in these "VCU" searches could very well be ignorance. When you take into account that VCU is not considered one of "big teams" of college basketball, a designation reserved for primarily for the BCS schools, the increased search volume is understandable.
When Google's image is observed: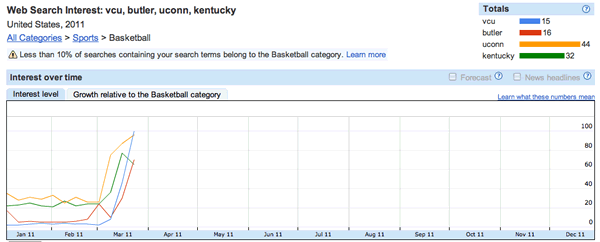 Click for bigger image
It's clear that, even though there are upstarts coming to the Final Four party, UConn and UK, popular teams in their own right, also receive a healthy share of Google's search volume. Oddly enough, however, Kentucky's search volume actually decreased as their also-unexpected run to the Final Four continued.
Google also posted their findings concerning the Women's Final Four, and as you would expect, the most popular team in that bunch is Geno Auriemma's UConn Huskies, and it's not even close. Of course, this is the same team that broke the record for most wins in a row for college basketball — all of college basketball, including the men's divisions — so their surrounding popularity is easy to understand.
With Google's data in mind, who ya got in the Final Four? Will your picks mimic the search volume winner or do you decide using another method?