So, how many of you who filled out NCAA Tournament brackets are still alive after Thursday's madness? Are you still confident in your Final Four picks? Did anyone pencil Morehead State into the Sweet 16? These are just some of the concerns that are no doubt preying on the record-breaking number of ESPN bracket entries as March Madness sweeps the nation — at least for the first weekend of the tournament, anyway.
As businesses lose billions of dollars in productivity while employees focus on the tournament games, one such business is not losing much of anything. In fact, in regards to ESPN, the exact opposite is true. According to MultichannelNews.com, the Worldwide Leader in Sports received a record number of tournament bracket entries for their 2011 Tournament Challenge, racking up almost 6 million (5.9) entries, which is an increase of 24 percent from 2010's total.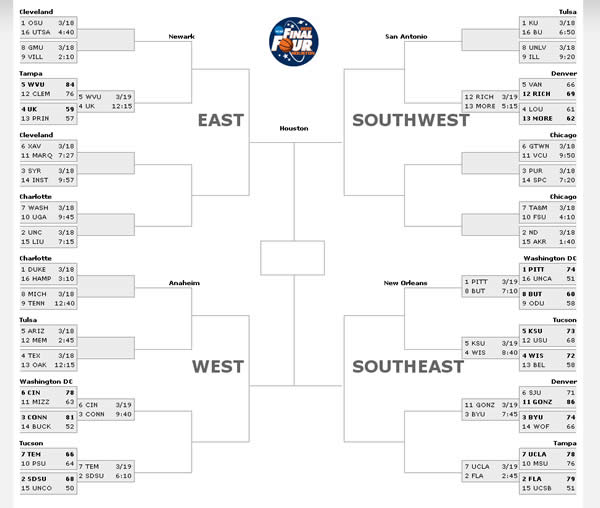 The post goes on to reveal that, at its peak, ESPN was receiving 5180 bracket entries per minute, or 86 a second. Clearly, in March, the madness of college basketball rules — at least for the first weekend — and as a place to post your bracket entries, ESPN's tournament challenge apparently does too. It's also clear that any loss businesses incur due to March Madness-infused lower productivity is ESPN's (and other bracket challenge services) gain.
Perhaps some revenue-sharing is in order.
As for ESPN's service, there are, of course, some in-depth analytics available about which teams were picked to go the farthest. According to ESPN's "Who Picked Whom" page, Ohio State, Kansas, Duke and Pitt are the top four teams in terms of appearing in the National Championship game:
Championship Game
Ohio State – 25.9%
Kansas – 23.7%
Duke – 16.0%
Pittsburgh – 6.2%
The lowest percentage, 0.0, belongs to a number of schools, including first-round upset winner Morehead State. The Eagles are among the 25 teams who, according to the ESPN entries, have a zero percent chance of winning the National Championship. I wonder if the Louisville Cardinals share that same sentiment concerning Kenneth Faried and the rest of his Eagles teammates?