Fans of group deals site LivingSocial should be pleased to know that some important organizations believe it'll continue to grow and succeed.  Reports indicate LivingSocial has raised $400 million in a new round of funding that values it at more than $3 billion.
Evelyn M. Rusli wrote late yesterday, "LivingSocial last week raised an additional $400 million from existing investors like Amazon and Lightspeed Venture Partners, and several new ones including T. Rowe Price and Institutional Venture Partners, according to two people close to the company who spoke on the condition of anonymity."
That's an impressive list of supporters, abbreviated though it may be.  Lightspeed has backed companies like DoubleClick and Playdom.  Institutional Venture Partners has funded companies including comScore, Netflix, and Zynga.  And T. Rowe Price enjoys ties to just about everything, really.
So a lot of sharp people who are good with money appear to think rivals like Groupon don't pose much of a threat to LivingSocial.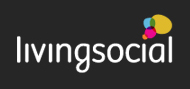 That's an interesting development in light of the recent graph from Yipit showing that LivingSocial has more or less caught up with (former) industry leader Groupon in terms of revenue per day.  Then LivingSocial fans might enjoy drawing attention to Groupon's Super Bowl advertising misstep, as well.
Plus, there's a new report indicating that Neil Ashe, the former president of CBS Interactive, has joined LivingSocial's board of directors.
It should be interesting to see what the future holds for LivingSocial, anyway.  The company's cofounder and CEO, Tim O'Shaughnessy, told Rusli, "This is the year we go and truly help define local commerce.  Simply put, expect us to put the pedal through the floor."