Update: I'm going to go ahead an liveblog the keynote here as well. To watch it live (or archived), go to live.dev.webpronews.com.
Begin Live Blogging

11:46EST: I hear Eddie Vedder's voice playing somewhere while everyone finds their seats and waits patiently for the event to begin.
11:49: A little surprised there aren't more seats taken up by now.
11:57: Getting close now.
12:00: My clock says 12:00 Eastern.
12:02 Ballmer is announced along with Danny Sullivan to the tune of Joe Walsh.
12:02 Danny asks about Yahoo deal. Ad relevancy Depends on the density of bids. More eyeballs on one campaign. For the user, it means the opportunity for more relevant ads. Huge advantage to scale, improve relevance, etc.
12:05: Ballmer: I see the opportunity for a number of game changers. Things we've clearly decided that are really important to being int he game and making real progress. If you look at the user experience, we have a differiator point of view. Gamechanger? We'll get there. Mobile, social, real-time…some of that is still kind of open, but wer're going to continue to make positive progress….
12:06. Danny asks if you can be number one in market share. He says there's no good answer to this, but he says "Yes, some day." applause.
12:07 Says they have a lot of work to do. The level of competiton in search has ramped up over the last couple years, and in the long run, will be great for advertisers, publsihers, and searchers. Danny asks if he'd be happy with number two. He says "of course not." Not possible to get to number one tomorrow, but focused on long term goal, and has long term optimism.
12:09: Danny asks of Yahoo is still a search player and if Microsoft will kill them. He says no. He wants yahoo to do a good job and he wants to do a good job, and Yahoo has a lot of flexibility. "We need them to be successful with us." Danny says he wants to be more successful on top of them in the end. Ballmer says the number one objective is for bing to be the best product it can be, and push the bing results forward. He says there's an advantage of a "power of 2" as opposed to "power of 1".
12:10 Danny asks about pushing on anti-trust issues (Google). He says Microsoft is being open about their interests. They're commenting about them (blog post). "As in our case, a lot of times, initial complaints will come from a competitor."…."we're not being silent." Expressing issues they say.
12:11 "Legal is determined by regulators. Not by Microsoft." We comment when we have publishers/advertisers who share issues…
12:12: Danny asks if anybody in the audience is frustrated with Google. One person seen to raise hand.
12:13: Ballmer says there are a lot of places where it's hard to break through. "I would love it if advertisers would share with us they're experiences on Google." There are things Bing could do to help offer advertisers a better value.
12:14 Danny asks if MIcrosoft is going to jump back into books. Ballmer says they've been particpating in a consortium (lower level of investment)…
12:14: China: "I don't know what can happen with Google, but as we all understand, the real force isn't Google or Bing. it's Baidu…" I won't say its exactly a sideshow, but the truth is that anyone who wants to be a competitor, it means how to compete or partner effectively with Baidu….said doesn't know if anything will change
12: 15 Danny asks about Firefox not listing Bing as a default option. Doesn't think "yelling is effective" for salesmanship on that. Says we'd love mor distribution partnerships. He says, "you can talk to them about their perspectives." Thinks they're having the right converations on distribution deals. Trying to get the product out and seen.
12:17 Ballmer says he read the rumor about Bing possibly powering search on the iPhone. Says it's interesting how rumors start. calls it "wild stuff." says they just want to make sure they do a good job with Bing on the iPhone. Other than that "I've read rumors." he says. Says he'd love to make switching to Bing as deafault on iphone easy (for user).
12:19: Danny asks about mobile queries from iphone/verizon distriubtion deal. "we get better queries on balance that i anticopated" across all mobile platforms. The most valuable commercial queries, people are liessl ikely to do from the phone, but the volume of queries will be higher. the average across all mobiles and particlularly iphone, were better than expected.
12:21: Doesn't expect much operator support for phones who don't want Bing.
12:22: Danny asks if there will be a bing app for android. He says it's complicated and he'll have to see how the android market develops. "It's not like our open religious princilples can be questioned here." Danny asks how he sees mobile over all in terms of the search space. "We're at a year for mobile. Mobile queries are just going to keep going up and up and up…." Not predicting any drop in the number of queries coming from pcs, but will see a rise in total volumes. years from now, still hard to preidct. getting real browsers on phones.
12:23: Says he searches while he's out on the move too much. His wife thinks he does it too much while driving. "Literally i only have a phone while i'm in the car." On the weekends, he can't be contacted…views this as "a feature."
12:24 Danny asks reader questions…Ballmer says Google did search right first. He acknowledges that Microsoft started later. He says Microsoft has the culture, and they're gotten everything moving faster than it was moving in search before Bing….says they're pushing "the other guys" as well as themselves.
12:26 Is Bing going to bring in a lot of profit? Doesn't know when it will happen. Says they have ambitions to grow….'what's going to happen overall with the economics of search engines?' You have good businesses, then people try to remake them. Different business models….maybe they have a bigger search engine in the future, but maybe theyr'e less profitable…
12:27 "The dynamics of an adveritisers supported business are really fantastically interesting."
12:29 What percentage of Ballmer's time is taken up by search these days? It's hard to say, because there are a lot of intersections between different businesses of Microsoft's. ..between Bing and Xbox, for example. Says they have great people heading the search team. Says he gives a lot of feedback…more constructive criticism than praise.
12:30: "I've fallen in love with ou real-time search." There's nothing better than Bing twitter search for high school basketball scores…
12:30 Danny assks if they should buy twitter…he says "not clear. " he'd hate to not have th partnership, but whether they need to own it is far less clear. They have a lot of value and cred with user community. not clear if they'd keep that. plus they want to be an independen company.
12:31: Asks if he's going to be getting out there on Twitter like Bill Gates. He says, the things he wants to say, he'd rather say it on a webpage. He says he was tweeting basketball scores himself…he has a stealth account…nobody knows. Danny says, "I'll lfollow you later…"
12:33 Ballmer pleased to have extended partnership with Facebook.
12:34 Says he wanted to do a demo for his wife with Bing's recipe stuff, but had to offer his "constructive criticism" on Key Lime Pie. They do it well now.
12:34: He says he has a religiously "pro bing" family.
12:35: Says he doesn't have a special button or hot line to let the team know about Bing issues…he just send an email and "things seem to get better."
12:36: What would he like to see Bing improvemnent in? Would like to consolidate usability…more they can do in the user experience…wha kind of relationships they build with SEOs, website operators…relevance. particularly on tail queries. Have to get more international. More and more countries over the next few years. Bing Maps is his favortie thing on Bing.
12:37 What is the biggest opportunity in search? "Action." Helping people get done what they're trying to get done. Says its a marketing campaign, but it's really true. Things like stats. Sites don't always exactly have the data you're looking for. "shouldn't be that hard." Understand more about user intent and structure of data…
12:39 He talks about health care debate as an example. It's too hard to find exactly how money is being spent, but you can't find it "easily." Says some of it is calculation, but some is understanding, and how you bring structure out of unstructured data. says there are great opportunities for innovation.
12:40 Going to audience questions.
Cash Back Program: Says it's been interesting. It has worked and hasn't worked fantastically, in the sense that it's completely changed the economics strtucture of the business, but expectsw positive results….wants to try some new things around the basic concept, to make it more potent for merchants and users.
Where does MS see money being made in mobile going forward? if you offer a phone of high value there is money to be made. we split that with a phone maufacturer…also search revenue, and other profitablitly. Will seek to build multiple revenue streams….subscription/ad-based services as well as licensing itself.
…we continue to push forward with Silverlight. Support flash/windows phone 7 for a lot of schedule based reasons. the first version will not support flash..not a religious issue. has to make sure they work with adobe on performance and everything. in the future, windows apps will be important. iphone apps will be important. xbox apps, HTML apps,….will be important. there's another class of apps that will be important …flash/silverlight.
Traffic from mobile to Bing….does PPC monetize in mobile? Some people click ads in mobile. better in mobile monetization than they thought. in the general case, there needs to be more innovation and IQ applied toward the right way to experience the ads. How do we rethink the UI/design model of search? you have the algo. purpose and the ad purpose. the way you lay that out on a phone, is going to be different.
Ballmer asks the audience a question: One of the things we have to spend alot of time thinking about is the evolution in privacy/confidentiality from the user perspective….says the user's interests/needs are primary….we should respect that…some people are happy to give up a little privacy for better service…is this a major issue on people's minds?
Show of hands….good mixture…Solutions?
12: 50 Danny asks Ballmer for good Xbox codes. "Get younger fast," he says is the secret.
12:51 They leave the stage after thanking the audience. The audience is leaving.
End live blog.
Original article: Microsoft CEO Steve Ballmer will be delivering a keynote address at SMX West in Santa Clara at 9:00am PST/12:00pm EST. WebProNews new will be streaming it live at our new live video site live.dev.webpronews.com.

This will mark Ballmer's first address to the search marketing community, and he is expected to talk about Microsoft's progress in the search world (with Bing obviously), as well as the company's future. More than likely, the famous Microsoft-Yahoo deal will be discussed.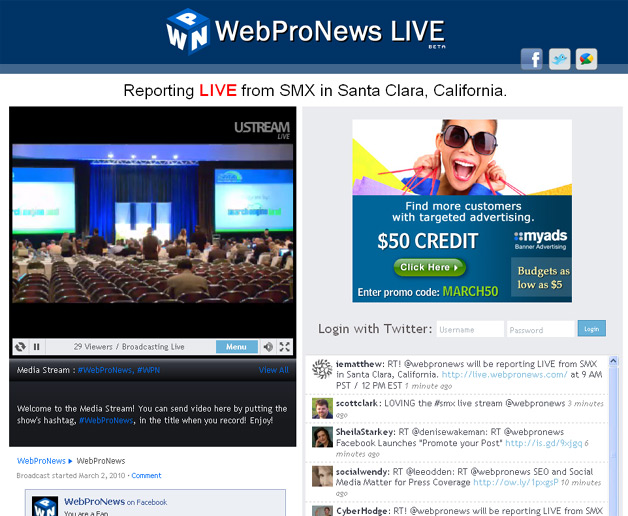 Stay tuned to live.dev.webpronews.com for the full keynote. Also, watch for continued live coverage of the SMX West event throughout the week across WebProNews, live.dev.webpronews.com, and the WebProNews Video Blog.