LinkedIn fans who would like to get their hands on a couple new features are in luck. Today, something called LinkedIn Labs launched, and as the name might lead you to expect, it acts to spotlight tools and potential upgrades that haven't been released to the general public.
Four projects made the initial cut, and Adam Nash explained on the LinkedIn Blog that LinkedIn users can expect more in the future. "Whether they are hackday winners, or just compelling technology demonstrations, we plan on adding to LinkedIn Labs regularly, as new innovations that are capable of supporting outside users are developed," he wrote.
As for what the initial experiments are about, the first is called NewIn 2.0, and with the help of Google Earth, it provides a real-time view of people all over the world joining LinkedIn.
Next, there's ChromeIn, which makes it possible to view LinkedIn network updates right in Google's browser. Plus there's Instant Search, an upgrade that aims to make the process of finding someone super fast.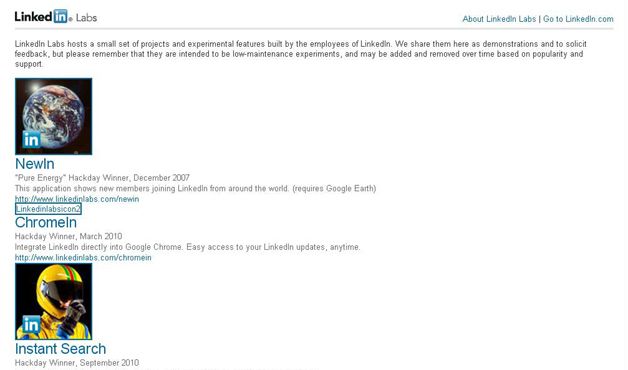 Finally, someone(s) at LinkedIn cooked up Signal. Nash described it by suggesting, "Discover the power of faceted search over both the LinkedIn stream and tweets shared by our users, and find insights you won't find anywhere else."
Have fun (and be patient) if you decide to play with anything in LinkedIn Labs.