BlackBerry devices are, more than any other phones, associated with the business world. And LinkedIn is, in most English-speaking markets, the dominant professional network. It makes a great deal of sense, then, that LinkedIn has at last released LinkedIn for BlackBerry v1.0.
This app should provide users with useful information in a number of ways. For starters: six different modules cover areas labeled "network updates," "search," "connections," "invitations," "messages," and "reconnect." (You can see screen shots of these modules in action below.)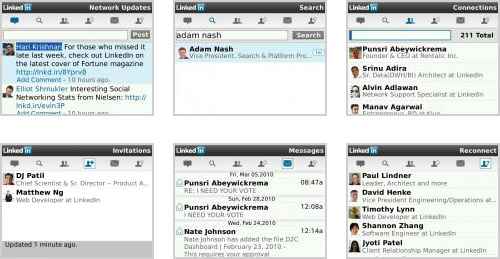 Also, app users will find it easy to look up the LinkedIn profiles of people in their address book, people on their BlackBerry calendar, and people who send them emails. Plus, LinkedIn messages and invitations will appear in their BlackBerry inbox.
More shortcuts and improvements should be on the way, as well. Chad Whitney, a senior product manager at LinkedIn, wrote on the company's blog, "The BlackBerry platform is a top priority for the LinkedIn mobile team, so expect regular enhancements and additions to the application through 2010."
Whitney then asked for feedback by adding, "If you are one of our LinkedIn for BlackBerry users, please join the conversation in the LinkedIn for BlackBerry group."