What would you say if I told you that Amazon is lowering the price of the Kindle by $25?  What if that meant you had to deal with ads?  Bummer, right?  What if I then told you that the ads wouldn't appear while you were reading, just on the home page and screensavers?  Okay, enough with the questions.
Amazon has announced that starting May 3rd, they will begin shipping their new "Kindle with Special Offers."  The new version of the popular e-reader will be $114, 18% less than the current cost of the original Kindle ($139).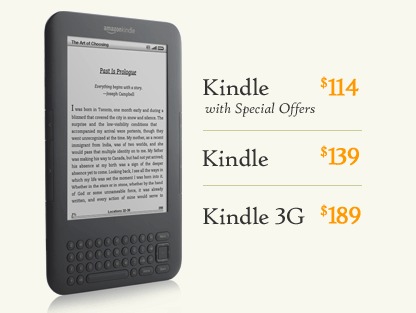 The '"special offers" that readers see will apparently not interrupt reading at all.  Amazon has listed some of the initial offerings that will be available to users when the product first rolls out:
$10 for $20 Amazon.com Gift Card
$6 for 6 Audible Books (normally $68)
$1 for an album in the Amazon MP3 Store (choose from over 1 million albums)
$10 for $30 of products in the Amazon Denim Shop or Amazon Swim Shop
Free $100 Amazon.com Gift Card when you get an Amazon Rewards Visa Card (normally $30)
Buy one of 30 Kindle bestsellers with your Visa card and get $10 Amazon.com credit
50% off Roku Streaming Player (normally $99)
The screensavers will be sponsored by Amazon partners Visa, Olay, Buick and Chase when the product launches, and they will look like this on your Kindle: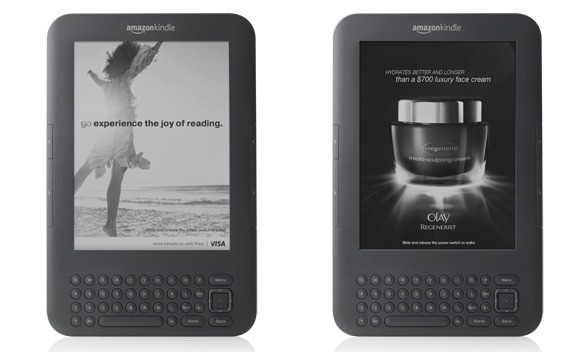 Users will be able to have some control over what type of screensavers they see, as Amazon is introducing "AdMash," a free app that presents two screensaver options to readers and asks them to select the one that they like the most (or can tolerate the most, or despise the least).  Those votes are tracked, and the most preferred sponsored screensavers are the ones that stick around.
On an options screen, users will also be able to select which type of screensavers they would like to see most, such as nature instead of architecture or modern images instead of country scenes.
In a statement on the amazon.com home page, CEO Jeff Bezos says that they are "working hard to makes sure that anyone who wants a Kindle can afford one."  $114 is a low price point for a Kindle, and the way they have structured the ads seems to be as minimal of an annoyance as possible.  As someone who loves to read and has never bought the ads-free version of Words with Friends, this offer interests me.  I am a little surprised the price wasn't set lower, however.  How often is someone able to afford $114 in discretionary spending but not $139?
However the sales shake out, this writer is thrilled whenever reading gets cheaper.  Seriously, read books. Lots of 'em.