Amazon announced a new update to its Kindle for Android app to bring new features specifically designed for Honeycomb and the tablet experience (like the Motorola Xoom).
"We've taken all the features customers love about Kindle for Android, and created a beautiful new user interface and a seamless shopping experience tailored to the look and feel of Honeycomb tablets," said Dorothy Nicholls, Director, Amazon Kindle. "As always, Kindle customers 'Buy Once, Read Everywhere,' so Kindle for Android is the perfect companion for the millions of customers who own a Kindle and a way for customers around the world to download and enjoy books on their Android phone or tablet even if they don't yet own a Kindle."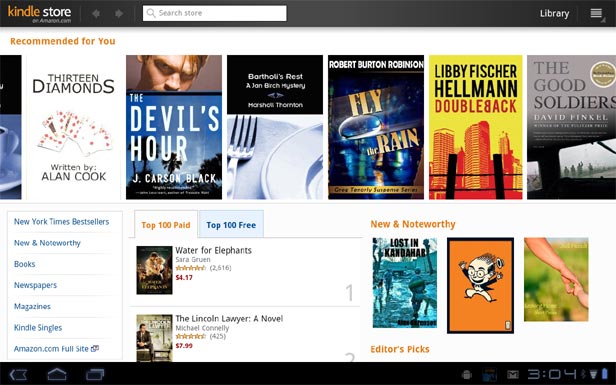 New features, as listed by Amazon, include:
Seamless integrated shopping experience tailored for tablets gives you quick access to personalized recommendations, customer reviews, and more
Refined newspaper and magazine layout including full color images
Ability to pause, resume download at any time
Enhanced word look-up capability (for Android-based phones and tablets) with built-in dictionary with over 250,000 entries and definitions.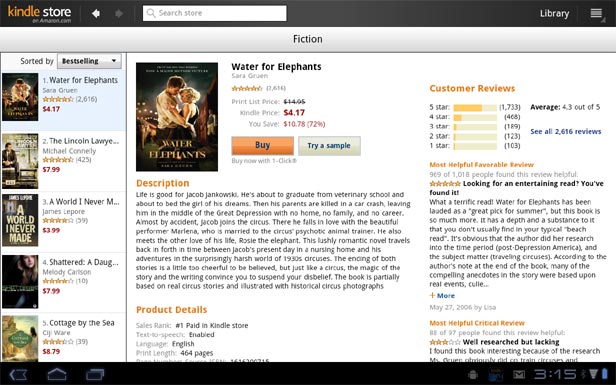 While the iPad is expected to lead the tablet market through the next several years, Amazon has certainly taken a shining to Android lately. In fact, last month, the company went so far as to launch its own Android app store, competing directly with the Android Market itself.
Of course there is a Kindle app for Apple's iPad and iPhone as well, not to mention BlackBerry, Windows Phone, and Mac/PC experiences.
Earlier this week, Amazon announced that over 11,000 libraries in the U.S. will be participating in a Kindle book lending program.