Move over Rick Perry, there's a new controversial leader in Texas and she's a giant Justin Bieber fan.
The small town of Forney, Texas recently held a Facebook contest to elect one child, aged 8 to 13, "Mayor for a Day." Adults were asked to nominate children by sending an email to the current Mayor of Forney, Darren Rozell, explaining why the kid would make a good chief executive.
On Monday, the town announced the winner via Facebook. 11-year-old Caroline Gonzalez received the honor – which came with responsibilities like leading City Council Meetings. Given all that power, free executive reign over an entire town, what did young Caroline do for her first Mayoral act?
She renamed a street in the town "Justin Bieber Way." And not just any street, but Main Street.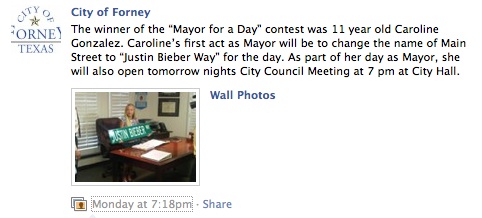 The City of Forney's Facebook page posted the entry the secured Caroline the win. It came from her father, and praised Caroline for being part of the Gifted and Talented Program, for playing softball, basketball and cheerleading, and for volunteering to help the poor through outreach programs. The nomination said nothing about her being a rabid Justin Bieber fan.
I say this is grounds for impeachment.
According to KDAF in Dallas, Rozell had this to say:
"I can't really say that I know a lot of Justin Bieber's music, but I know that he's really popular these days, and if she wanted to name it Bieber Way, we were going to make that happen"
Luckily, Caroline's regin of terror is over as she was only Mayor for one day. And Justin Bieber Way will be changed back to Main St. But the damage has been done. Anyone that drove through downtown Forney, Texas saw, for a split second, a street named Bieber.
Check out the video below, which is worth it simply for the female news anchor referring to "Justin Beaver" a couple of times.