Amazon shareholders who were already on edge over the company's disappointing earnings report and forecast now have one more thing to fret about. A new SEC document indicates that Amazon CEO Jeff Bezos cut his stake in the company by a significant amount at the end of last year.
The Schedule 13G, which Amazon filed today, shows that Bezos reduced his stake to 19.5 percent on December 31st, 2010. That's down from 21.2 percent beforehand, which works out to a cut of 8.0 percent.
Of course, in fairness to the CEO and his company, Bezos still owns a whole lot of Amazon stock, and it's his business if he wants to build another house or purchase a selection of exotic cars. Many people in his position would have already sold everything, bought an island, and retired.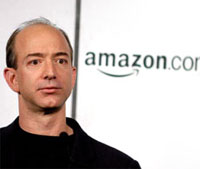 Also, as reported by Reuters, Bank of America Merrill Lynch said in a note, "Owning the stock here requires trust and patience. We have seen Amazon go through investment cycles before and believe investment in growth is the right long-term strategy for the Internet."
The timing of this announcement is just less than opportune. Amazon's stock plummeted in after-hours trading yesterday evening, heading from $184.45 to $164.65, and although things are looking a little better this morning, it's still down 8.09 percent (at $169.53).
On a semi-related note, Eric Schmidt announced last week that he'd be selling 534,000 shares of Google's stock.