Update: The EFF has weighed in on the topic, talking about what the censoring means for free speech.
Craigslist has removed the censored box, and the adult section is just gone entirely.
Original Article: As you may have read by now, Craigslist has censored its "adult services" section. This appears to stem from a combination of pressure from numerous state attorneys general and negative media exposure. The issue at hand: prostitution and human trafficking being solicited through the site.
The situation brings to mind the conviction of Google execs over content uploaded to Google-owned YouTube, which led us to asking if social media sites should be held accountable for user actions. Should Craigslist be held responsible? Comment here.
Craiglist opted to display a "censored" bar over the "adult services" category, caving to the pressure to remove it, while also making it obvious that its not really what they wanted to do. They could've simply removed it. Craigslist clearly feels attacked. Some have even suggested that the move was made to influence public opinion.
Some are coming at the story raising questions about free speech, and while that is one issue, not even all supporters of online free speech find this to be the real issue at hand. Microsoft Research Senior Researcher Danah Boyd wrote a lengthy editorial on the subject for the Huffington Post in which she comes to Craigslist defense (as a service provider, not for censoring the section). Boyd, who claims to be a victim of abuse herself, makes the case that censoring Craigslist does more to add to the problem than to help solve it, saying that it helps the abusers.
"The Internet has changed the dynamics of prostitution and trafficking, making it easier for prostitutes and traffickers to connect with clients without too many layers of intermediaries," she writes. "As a result, the Internet has become an intermediary, often without the knowledge of those internet service providers (ISPs) who are the conduits. This is what makes people believe that they should go after ISPs like Craigslist. Faulty logic suggests that if Craigslist is effectively a digital pimp who's profiting off of online traffic, why shouldn't it be prosecuted as such?"
"The problem with this logic is that it fails to account for three important differences," Boyd continues. "1) most ISPs have a fundamental business — if not moral — interest in helping protect people; 2) the visibility of illicit activities online makes it much easier to get at, and help, those who are being victimized; and 3) a one-stop-shop is more helpful for law enforcement than for criminals. In short, Craigslist is not a pimp, but a public perch from which law enforcement can watch without being seen."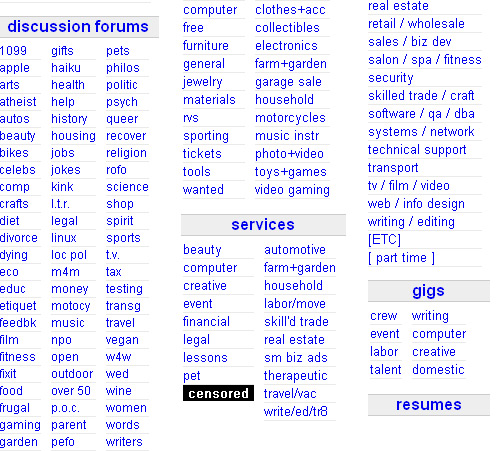 Boyd elaborates on each of these points in the article. Despite the censoring, Craigslist appears to agree with Boyd.
"The law is on craigslist's side – websites are not liable for content posted by users under section 230 of the Communications Decency Act. But craigslist has given up anyway," says Adrianne Jeffries at ReadWriteWeb. "It's not because its owners want to prevent sex trafficking – craigslist has maintained that it does more harm than good because law enforcement agencies can use it just as easily as pimps can."

There has been a lot of criticism about how the media has covered the story in general, with Craigslist itself probably being the harshest critic. CNN's Amber Lyon recently interviewed Craigslist founder Craig Newmark, apparently catching him off guard on the subject. In a post at The Faster Times, Newmark says:

Amber approached me after an event where I had just spoken about stuff like getting real support for our troops and veterans — a cause I care about and support whenever I can. She said because "I'm the Craig in craigslist," she expected me to have all the answers on the spot about anything to do with the company. Well, I don't. Jim Buckmaster, our CEO, has been running craigslist for the last 10 years. I am a customer service rep, and I still love being connected to our users and trying to help people. But I have no role in managing the company's operations because basically (a) I suck as a manager, and (b) while overall company direction matters to me as founder and a board director, the deal was to hire good, trustworthy people and then get outta the way. If Amber had done her homework, she would have known ambushing me with questions I am not qualified to answer, or even the right person to ask, would not get CNN's viewers the accurate information they deserve.
Buckmaster also posted a letter to Lyon on the company blog, criticizing her approach. In this clip, Lyon says Craigslist isn't living up to its promise of filtering ads, and offers a rebuttal to Craigslist accusations that she "ambushed" Newmark (though doesn't mention the part about him not running the company). Since the Newmark interview, there has been no shortage of media coverage of Craigslist, though as Jeffries and Lyon both note, Craigslist itself is no longer talking.
Craigslist had another blog post up recently criticizing the notion that alternatives to Craigslist are any better for preventing human trafficking. The post was a response to a Facebook Page based on that notion, indicating that eBay was such an alternative. The post goes on to discuss examples of ads that would contradict that notion. In Boyd's piece, she compared the whole thing to a game of whack-a-mole, suggesting that if you censor one site, the content will simply pop up on another one.

Is censoring Craigslist the answer? Share your thoughts.