Apple has a reputation for being stingy with apps that could provide users with anything remotely resembling adult content (though it has made exceptions for big brands). Chatroulette has a reputation for being a place where guys show their private parts to random viewers (though the site is supposedly cracking down on this).
Given both of these reputations, it's no surprise that Apple has removed apps with similar functionality to Chatroulette's in the past. They keep popping up now though, and with jailbreaking legal, iPhone users have their options.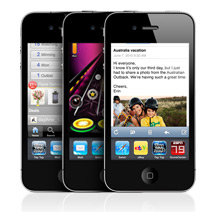 9to5Mac points to an app (via App Advice) that has Chatroulette-like functionality, but has some additional recommendation features.
"The app even promises to push out random video chats based on no similarities, FUN!" writes 9to5Mac's Mark Gurman. "Also, Evo and iPhone 4 owners can now video chat, randomly, making Fring a thing of the past. So the moral of this story is that we'll most likely have another post up in about a week telling you that Chatisfaction was yanked from the App Store."
Either way, it looks like Chatroulette has inspired a new trend in random video chat services, and it is very likely we'll see plenty more. Now, Chatroulette is working with Sean Parker, who had a hand in making Facebook the powerhouse it would become (in the early days).