The Huffington Post has an article putting together the biggest iPhone 4 complaints so far. Among these complaints are: camera malfunctions, supply, screen discoloration, scratchable cases, poor reception, switched volume keys, and search limitations.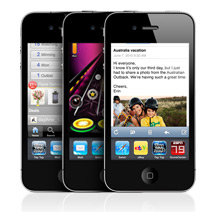 It is the reception problems that seem to be getting the most attention. This may be due to Apple's response to the issue. Engadget provides this official statement from the company:
Gripping any mobile phone will result in some attenuation of its antenna performance, with certain places being worse than others depending on the placement of the antennas. This is a fact of life for every wireless phone. If you ever experience this on your iPhone 4, avoid gripping it in the lower left corner in a way that covers both sides of the black strip in the metal band, or simply use one of many available cases.
There have also been complaints about a bug preventing the iPhone 4 from using visual voicemail. "Whenever we went into Phone and clicked on the Voicemail button, instead of going to the Apple Visual Voicemail, it instead placed a call to Voicemail. So basically, it wasn't working right at all," writes Alex at RustyBrick, adding, ""The trick is, on most new iPhones, you have to receive a voicemail (or two) before the iPhone will launch the prompt that asks you for your ATT voicemail PIN number."
Regardless of complaints and minor inconveniences, the iPhone has had no problem selling so far. Some calculations put sales at 1.5 million for the first day. A Piper Jaffray analyst says 77% of the sales were upgrades.