Now that the New iPad (or "iPad 3" called by some) has now been released to the public today (March 16, 2012), existing iPad users are left with one question: "What do I do with my old iPad?" Some have already placed their existing iPads on popular internet-buying websites like eBay and Craigslist; however, if you want to go through a more recycling-based route, iPad's maker Apple provides existing iPad users with a method to do this and rewarding you for it.
On Apple's website, users can choose the Reuse & Recycle page and select their iPad 2 from the iPad options provided (shown below).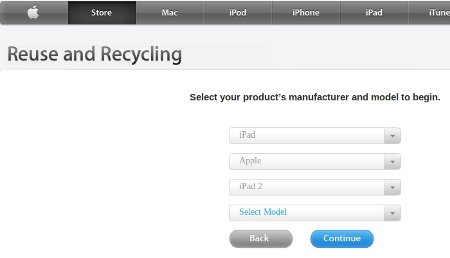 After the user has chosen the exact model of iPad 2 that they currently own, a series of questions will appear asking the user about the current state and condition of their iPad 2. This is to help Apple determine the criteria of what to owe the user. Some of the questions that the user will encounter have been provided below:
Does the iPad work properly?
Does the iPad fully charge?
Are there any cracks or damage to either the display or case?
Has the iPad been water damaged?
Depending on the specific model of your iPad, the figures provided below reflect what Apple will pay pertaining to your recycled iPad 2 with no flaws (provided by cnet):
iPad 2 Wi-Fi (16GB) – $205
iPad 2 Wi-Fi + 3G (16GB) – $250
iPad 2 Wi-Fi (32GB) – $245
iPad 2 Wi-Fi + 3G (32GB) – $280
iPad 2 Wi-Fi (64GB) – $275
iPad 2 Wi-Fi + 3G (64GB) – $320
Gift cards are available for highly defective or non-functional iPad 2s; however, $50 will be paid for cracked or water-damaged iPad 2s with 16GB Wi-Fi.
Are these reasonable reimbursement prices from Apple for the iPad 2? Please be sure to leave your feedback below in this post's comments section.