Nearly a quarter (21%) of all TVs shipped in 2010 had Internet connectivity and that is on track to grow to over 122 million in 2014, according to a new report from The NPD Group.
Growth of connected TV was fueled by the Japanese market in 2010 and driven by high levels of broadband access. Emerging markets will play a key role in the future growth of this segment, with Eastern Europe forecast to grow from 2.5 million connected TVs shipped in 2010 to over 10 million in 2014.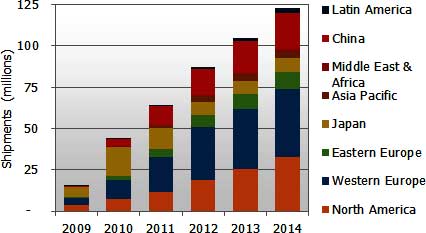 Nearly half of consumers (45 percent) who say they have an Internet-connected TV, access Internet features. Among those who have connected their TVs to the Internet, 57 percent say they are very satisfied with the TV's Internet features.
"Manufacturers are underselling the Internet features of connected TVs," said Ross Rubin, executive director of industry analysis at The NPD Group.
"Broadband features unlock worlds of on-demand content; manufacturers should provide the key by integrating Wi-Fi."
Among those consumers who have connected their TVs, more than half (57 percent) are using it to access Netflix, 47 percent are viewing videos on YouTube. Consumers are also taking advantage of the ability to access other networks in their homes. More than half (54 percent) said they accessed video, music, or photos on their home networks.
"Video services are leading the way on connected TV usage," said Rubin. "These include the ubiquitous Netflix and the rapidly expanding presence of Hulu Plus."
"But NPD research indicates that manufacturers have an opportunity not only to provide more content choices, but inventive ways to navigate them."