Offering loyalty incentives, such as discounts on monthly fees, service upgrades and other benefits, provides a significant boost in customer satisfaction with fixed and mobile broadband Internet service providers (ISPs) in the UK, according to a new report by J.D. Power and Associates.
Around 15 percent of fixed broadband customers and 16 percent of mobile broadband customers report having received incentives from their ISP to reward their continued loyalty.
Among these fixed and mobile broadband customers, satisfaction averages more than 100 points higher than among customers who don't receive loyalty incentives. Among fixed broadband customers, the difference is an average of 102 points on a 1,000-point scale (737 vs. 635, respectively) while the gap averages 107 points among mobile broadband customers (701 vs. 594, respectively).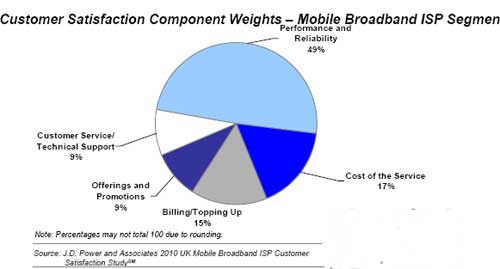 "While many Internet service providers offer discounts and rewards when customers initially sign up for or bundle services, incentives for ongoing loyalty have the greatest positive impact on overall satisfaction," said Stuart Crawford-Browne, senior manager of service industries research at J.D. Power and Associates.
"Loyalty rewards provide an important and impactful opportunity for ISPs to differentiate themselves, particularly in the increasingly competitive market landscape in which rewards are becoming an expectation among customers."
The report also found providing high levels of satisfaction with Internet service has a strong positive impact on recommendation rates. Among mobile broadband customers with the highest levels of satisfaction (averaging between 800 and 1,000) with their service provider, 67 percent said they would recommend their current ISP. This figure averages 64 percent among highly satisfied fixed broadband customers.
In contrast, among the least satisfied customers (with satisfaction averaging 700 or lower), only 8 percent of mobile broadband customers and 9 percent of fixed broadband customers would recommend their ISP.
"To keep customers satisfied, ISPs will need to focus on investing in infrastructure in the coming years," said Crawford-Browne. "Building networks with the ability to handle fast data transfer speeds will be important not only to customers, but also to businesses and, by extension, the economy as a whole."