New comScore video data is out, and as usual, a few corporations traded places in terms of successfully attracting unique viewers. The bigger story, though, may be the fact that Hulu showed its users over 1.1 billion ads in October, which is more than twice as many as the number two entity, Tremor Media Video Network.
comScore called the 1.1 billion ads a record, and indeed, they represent an interesting milestone or two. One possibility is that Hulu cranked up some sort of revenue dial, considering it generated just 794 million ad impressions in September. That means an increase of 39.8 percent occurred on a month-over-month basis.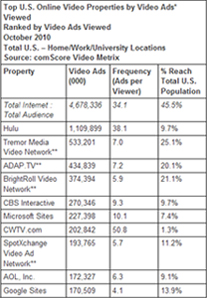 Still, at the same time, Hulu also managed to do a much better job of holding users' attention, since comScore recorded a 27.8 percent month-over-month increase in minutes spent per viewer.
So October was a very good month for Hulu, setting aside the fact that it slipped from ninth place to tenth in the unique viewer rankings.
As for some other changes in those rankings, Viacom moved from seventh place to third, VEVO rose from sixth place to fourth, and Facebook fell from third place to fifth.
Google, meanwhile, remained very much on top, with comScore noting in a statement, "Google Sites had the highest number of viewing sessions, crossing the 2.0 billion mark in October, and average time spent per viewer at 272 minutes, or 4.5 hours."